Another football appetizer. Hummus is so quick and easy to make.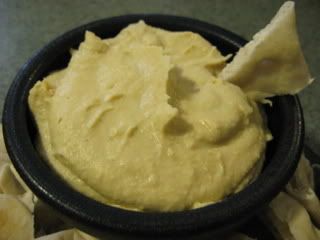 Hummus
1 16oz can chickpeas
1 - 1 1/2 TBLS Tahini (ground sesame seeds)
4 - 6 TBLS lemon juice
2 - 3 cloves of garlic
a good drizzle of olive oil
a pinch of salt
a little bit of cayenne
some fresh dill
Drain chickpeas and reserve about 1/4C of the liquid.
Put all ingredients, including reserved chickpea liquid, in the blender or food processor and blend until smooth.
Serve with flatbread or pita chips.
Enjoy!