Name:
From
V. Sattui Winery
: Off Dry Johannisberg Riesling
Price:
$19
Year:
2006
PHOTO of bottle: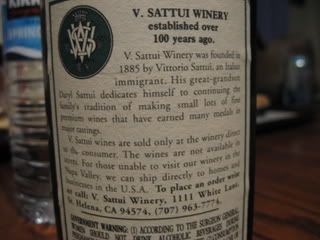 Short intro from the wine maker about the wine:
This is on the website for the 2007 Johannisberg Riesling, we had the 2006, but there wasn't anything like this on the bottle and they must not have any 2006 left....
This wine's delicate floral quality and lush sweetness is balanced by a pleasant ridge of acidity, pairing especially with spicier foods like Chinese, Thai, Mexican and hot Indian curries.
Review:
We went to my friend Whitney's house for New Year's Day dinner. She was excited for me to try her favorite wine. You can only buy it at the winery or have it shipped to your home or business. She had a bottle of the Off Dry Johannisberg Riesling and I think a Muscat (hmmm... maybe I can wrangle an invite for the Muscat too!)
Whitney served a FABULOUS dinner of Roast Pork, Sauerkraut w/Kielbasa, Mashed Potatoes & Pork Gravy, Sweet Potatoes cooked in ummm... orange juice I think, Baked Apples and yummy Green Beans w/Spatzel.
She was getting ready to pour the wine and I cautioned, "Just pour me a little, I really don't like wine." So she did. I took my first sip and was sooo pleasantly surprised!
It tasted fresh & crisp with lots of apple and grape flavors. I LOVED it! Then I asked for more!
Would you buy again?:
Definitely!
Wine Pairing Ideas/Recipes:
I'd love to try it with Thai or Mexican as listed in the description from the website.
Whitney is a totally sweet and thoughtful friend. In a hostess basket she gave me for our holiday gathering, she included a Yellow Tail Shiraz (that we haven't opened yet) and a wine notebook! I'll have to start getting it updated. (she also put in wine napkins, card napkins (we play Euchre regularly) and chili pepper napkins (you might have noticed I really dig Mexican food)... she also put in card playing snacks of nuts & candies and a few other things that I can't remember right now)
She and her hubby (although I don't think he'll actually be tasting) are now members of the Pittsburgh Chapter of the
BakeSpace Wine Club
!
Let the Wine Tasting Continue!!
Our next meeting is January 17!