I've wanted to try a Monte Cristo for YEARS. An old boyfriend ordered them often, but I never tried one. The combination always sounded kinda weird... meat & cheese & French toast, but I was always very curious.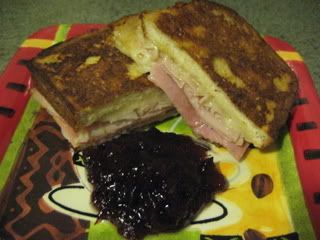 Aaron McCargo Jr made them on
Big Daddy's House
recently. And then Bob from
Cooking Stuff
was talking about a Monte Cristo-like sandwich over on
BakeSpace
in one of the Dinner Threads.
I decided it was time to take care of my curiosity.
I pretty much used Aaron McCargo Jr's
recipe
.
I made the sandwiches the same, but I changed up the Cranberry Syrup a little. I didn't want to put cold syrup on my hot sandwiches, so I heated it. I also used whole berry cranberry sauce for a little more texture.
Monte Cristo
4 eggs
1/4 C milk (approx)
1 tsp vanilla
1 tsp cinnamon
pinch of sugar
pinch of salt
6 slices of bread
6 slices of swiss
sliced ham
sliced turkey
butter
Preheat oven to 350F
Whisk together eggs, milk, vanilla, cinnamon, sugar and salt.
Assemble sandwiches (make them to your liking - maybe you like more meat or less.. however you like it)
Melt butter in a skillet.
Dip entire assembled sandwich into egg mixture and place dipped sandwich in hot skillet.
Cook sandwiches until golden and flip. When the other side is golden, remove to a cookie sheet and bake in 350F oven until cheese is all melty and sandwich is heated through.
Serve with Maple Cranberry Sauce.
Maple Cranberry Sauce
1 16oz can whole berry cranberry sauce
1/4 C maple syrup
salt & pepper to taste
Heat all ingredients in small sauce pan until warmed through.
~~~~~~~~~~~~~~~~~~~~~
Ok.... eggs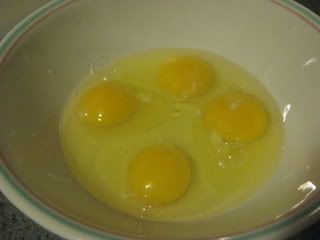 Plus milk, vanilla, cinnamon, sugar, and salt.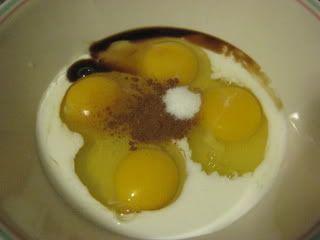 Whisk it up.
Assemble your sammies
Swiss
Ham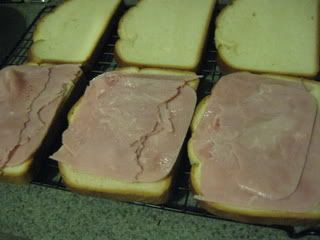 Smoked Turkey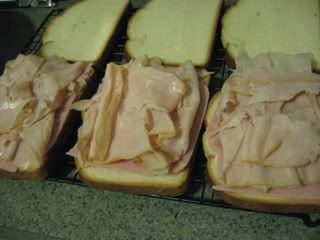 More Swiss
Heat up the skillet and add butter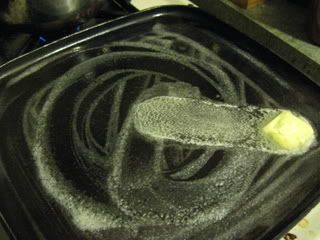 Dip your sandwiches into the egg mixture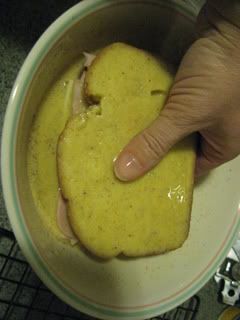 And into the skillet
Turn when golden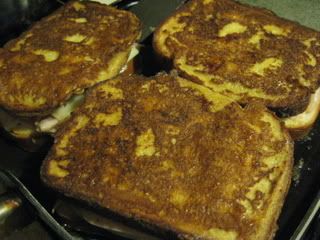 And into the oven to ensure warm melty goodness!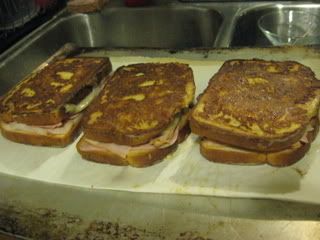 Some warm yummy chunky Cranberry Maple Sauce
It's dinner time!!!!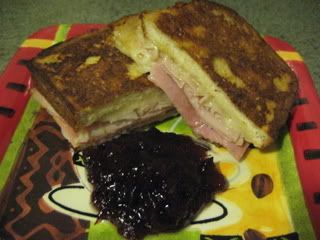 So the verdict?
Tawny didn't like it. (I think she did eat the whole thing... or most of it... she tried disassembling it... definitely not a winner in her book)
Jon said, "I could eat it again" Which led to a discussion of....
So if you had to rate The Monte Cristo, which answer is most correct?
Would definitely recommend it to a friend.
Would probably recommend it to a friend.
May or May Not recommend it to a friend.
Would probably not recommend it to a friend.
Would definitely not recommend it to a friend.
He didn't really say which the answer was! But I think he would eat it without complaint if I made them again, but he would not actually 'request' them.
I enjoyed it. I did add Dijon mustard to mine and instead of dipping the sandwich, I added the Cranberry Maple Sauce to the inside. Next time, I'd add the Dijon while assembling.
I think this is something that I'll suddenly have a craving for and will end up making again, but probably not often, due to the lackluster response of my family.