I used to make enchilada casseroles all the time. Then I found out my husband really prefers enchiladas. So it's pretty rare for me to make them in casserole form anymore. Last week he had an old friend in town. So we invited him and a couple of other friends over for dinner.
I had planned to make chicken enchiladas with nice fresh made corn tortillas from the Mexican only Mexican market in town.
Soooo I started off by making my
Smoky Mexican Chicken
and Green Chili Enchilada Sauce the night before.
All you need for chicken enchiladas is tortilla, chicken, cheese & sauce... plus I was adding some spinach (gotta sneak it in where ever you can)
I microwaved the tortillas to soften them up a bit. I've never had fresh corn tortillas to work with before and these were pretty thick... but still pliable.
So I laid out my tortilla, put on some cheese, then spinach, then chicken and rolled it... well... tried to roll it. They were so thick they really didn't roll very well. I did two and decided that enchiladas were just not working out and changed my plan to Chicken Enchilada Casserole. Same ingredients... same taste... different (MUCH easier) preparation.
So I grabbed a casserole dish and spooned in enough Green Chili Enchilada Sauce to coat the bottom.
Then tear the corn tortillas to make a nice layer on the bottom. These were thick enough that I really only needed a single layer. But regular store bought corn tortillas are so thin, I usually double it. (you can see little bits of cheese from when they were rolled)
Then put in a nice even layer of
Smoky Mexican Chicken
.
Sneak in the spinach... shhhhhh don't tell!
A nice healthy layer of cheese.
Then another tortilla layer.
A nice sauce layer.
More chicken.
More spinach.
More cheese.
Then a final tortilla layer... more sauce... and more cheese.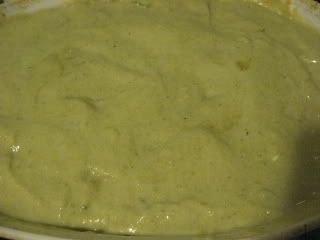 You want to bake this at 350F until it reaches an internal temperature of 165F.
There are no 'out of the oven' pictures. I think the shots of tequila started... guitars came out... singing...
marriage announcements...
it was a fun night, but no more food pics.
Anyway.... this is a VERY versatile casserole... I like green sauce on chicken or pork... and red sauce on beef... you can top them with green onions and or black olives... add layers of rice and or refried beans... it just depends what you have on hand and what you feel like!