I had a southern friend come stay with me over the summer. To make her feel at home, I wanted to make some sweet tea. I found the most of the southerns who replied to my query preferred Luzianne tea for their sweet tea.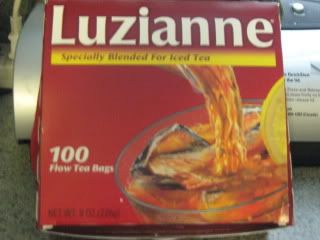 I personally don't like sweet tea. I like my iced tea fresh brewed, strong and unsweetened. Lauren said it tasted just like home... and Tawny really loves it. When I made it over the weekend for her and her friends... she said she makes it better than I do. I guess I don't have to make it anymore!
Anyway.... here's some sweet tea you can be proud to serve to any of your southern friends.
Boil a saucepan full of water.
When it's boiling, remove from heat and steep 4 Luzianne tea bags for 10 minutes.
Pour 1 cup of sugar into a pitcher.
Pour the hot tea into the pitcher with the sugar and stir until all of the sugar is dissolved.
Refill the pot with the tea bags and pour that water into the pitcher until full.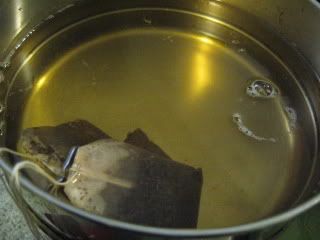 Pour into a glass with ice and enjoy!