This recipe came in a my Everyday Food Magazine. I don't recall the month, but I found the recipe
online
at
MarthaStewart.com
.
The picture made me want to make it right away. Well... it didn't happen right way. I did make the sandwiches pretty soon after the magazine came and LOVED them. I was really looking forward to making the soup with the sandwiches. Last night was the night. I added some Thyme and instead of plain salt, I used Shallot Salt.
* 3 tablespoons butter
* 4 scallions, white and green parts separated and thinly sliced
* 3 boxes (10 ounces each) frozen peas
* 2 C reduced-sodium chicken broth
* 1 1/2 cups shredded sharp white cheddar (6 ounces)
* 6 slices rye sandwich bread
* Shallot salt and ground pepper
* 1 tablespoon fresh lemon juice
* thyme, a few fresh sprigs
I sliced the white parts of the scallions and sauted them in some of the butter in a soup pot.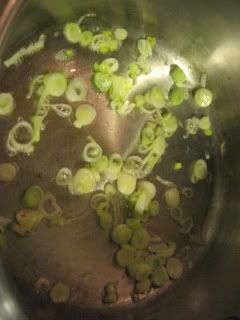 When the scallions are tender, add broth, peas and thyme.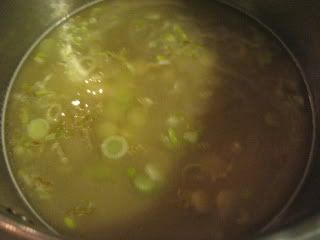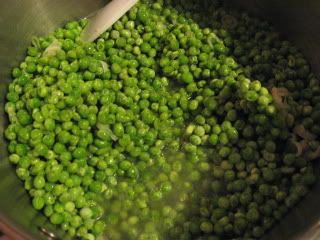 When peas are tender, blend with stick blender until smooth. And season with lemon juice, shallot salt & pepper.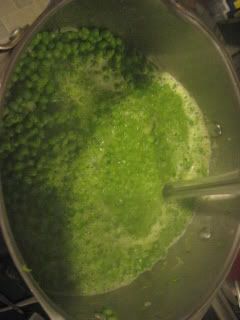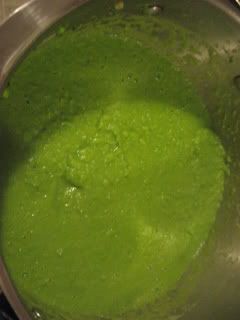 Mine was quite thick... I noticed after that in the instruction portion of the recipe, it also called for 3 cups of water. That would make it much thinner, but not any tastier. I didn't mind the thick texture.... but I found this soup to be very bland. But Jon & Tawny liked it. So who knows... you might too!!
The sandwiches are wicked easy & wicked good!!
Toss the shredded cheese & green scallions together.
I buttered one side of each slice of bread, because that's the way I like to do it.
Put shredded cheddar mixture on unbuttered side of bread and top with unbuttered side of another slice.
Then just grill them until golden.
Serve with soup!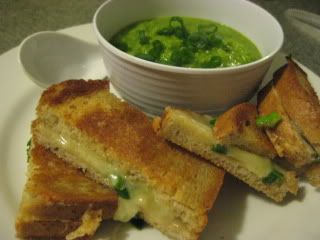 These sandwiches were so simple but sooooo tasty!! I will be making these often!