I love to try lots of new recipes. My husband is REALLY good about trying anything and everything I make. Saturday at the grocery store we (I) were kinda planning meals as we shopped. Then I decided to make French Toast. He loves french toast. I usually prefer pancakes. And I haven't made it for a long time. So I decided to make some for him for Sunday breakfast.
I like to buy bread at the grocery store bakery and cut it myself for nice thick French toast slices. They didn't have any uncut. I was bummed and considered using cinnamon bread, but those slices are so darned thin. Then I remembered seeing Texas toast over by the deli. I've never used it before, but the slices are nice and thick, so I thought I'd give it try. Am I glad I did!!
French Toast
8 slices Texas toast
6 eggs
1/3 C evaporated milk
1 tsp vanilla
a few good shakes of cinnamon
a pinch of salt
Butter for frying
In a large bowl, whisk eggs
Whisk in milk, vanilla, cinnamon & salt
Dip bread into egg mixture and turn over. Be sure they are well coated.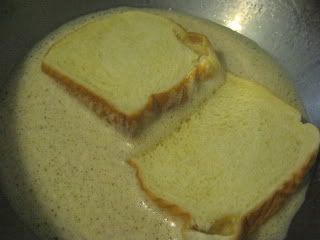 Melt butter in skillet over medium heat.
When butter is melted, swirl the pan around to coat the bottom.
Add bread.
When golden on the bottom, flip to cook the other side.
Serve with butter & syrup.
YUM!!