Last Friday as I was driving to work, I heard an ad on the radio that
Aaron McCargo Jr
from The Next Food Network Star, would be at a nearby
Market District
on Saturday morning. I decided that I definitely wanted to go! Big Daddy's House is one of my favorite new FoodTV shows. He makes food I would definitely cook for my family.
I got there a few minutes late, but was still able to get a pretty good seat. I was really excited to find out he was also doing a Food Demo! I thought it was just a meet and greet type thing. He was fun, funny and friendly. It was so much fun to see a live Food Demo. I have never been to one before and hope to go to many many more!
He made Chicken Gyros (again... he makes stuff I'd totally cook for my family!) I was pretty psyched. I figured, if they looked good, I'd make them for dinner that night. They looked great! Very easy. It was like watching his show, but you could smell everything! A few lucky spectators also got to taste! I wasn't one of them. But it was still so much fun. Market District had prepared a bunch of them, so when he was finishing up, we did all get to try his recipe. YUM!!
I really only got one good pic of him doing the demo (the lady in front of me kept standing up to take pics *grrr*)
Then he hung around and signed autographs and took pictures with anyone who wanted them. He was wicked nice!
Of course, I had my picture taken with Aaron. =)
Anyway! The Chicken Gyros rocked! I was going to make them Saturday night, but as usual, my dinner plans rarely happen on the day I plan! I made them last night.
Grilled Chicken Gyros with Cucumber Sauce
Courtesy of Aaron McCargo Jr.
Cucumber Sauce
1 large cucumber, peeled, seeded and diced small
8 oz sour cream (I used light sour cream)
1 TBLS chopped garlic
1/2 TBLS fresh lemon juice
1/2 tsp sea salt
1/4 tsp cracked black pepper
For Gyro
3 TBLS canola oil
1 TBLS chopped garlic
1/2 tsp sea salt
1 TBLS freshly chopped parsley leaves
1 TBLS fresh lemon juice
4 8oz chicken breasts, trimmed
4 pocketless pitas
tomatoes, onion, and lettuce for serving.
Cucumber Sauce:
In a medium bowl, combine all ingredients and mix thoroughly. Set aside.
For the Gyro:
In a medium blow, mix the canola oil, garlic, sea salt, black pepper, fresh parsley and lemon juice and whisk until combined. Add the chicken and marinate for 30 minutes.
Preheat grill to medium high heat.
Remove chicken from marinade and place on hot grill for 6 to 7 minutes on each side.
Remove from grill and let rest for 5 minutes. Cut into medium-sized strips. Brush pita with oil and grill for 30 seconds. Removed from grill and spread cucumber sauce onto pita. Add tomato, onions, lettuce and chicken to pita and fold pita over.
Enjoy!
~~~~~~~~~~~~~
So anyway... I gathered my ingredients for the marinade.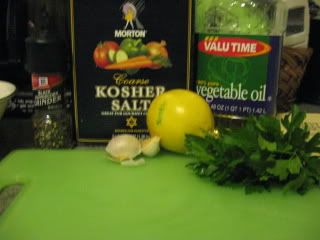 Put the oil in a bowl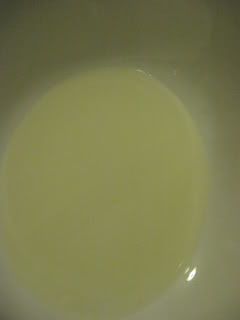 Chopped my garlic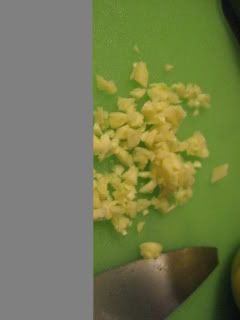 Added it to the oil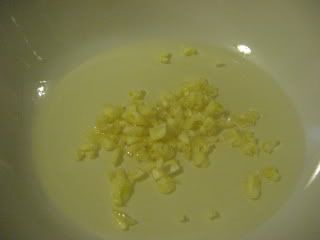 Added salt & pepper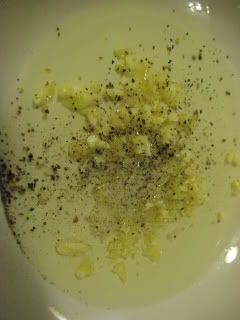 Fresh chopped parsley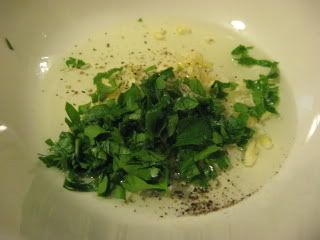 Fresh lemon juice... if you press on the lemon and roll it a little, the juice will come out better.
Squeezed that in (careful of the seeds)
Mixed that all up!
Next I trimmed up my chicken breasts.
And the wicked cool thing I learned at the demo... BUTTERFLY THE CHICKEN BREASTS!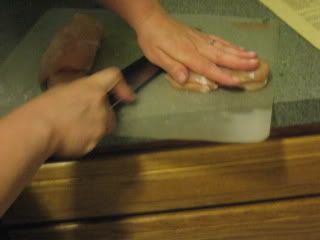 How cool is that!??!!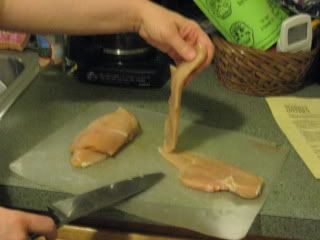 Add all the chicken breasts to the marinade and toss to coat them all well.
Time to move on to the Cucumber Sauce while the chicken in marinating.
For a thicker sauce, pour your sour cream into a cloth lined bowl.
Peel the cucumber.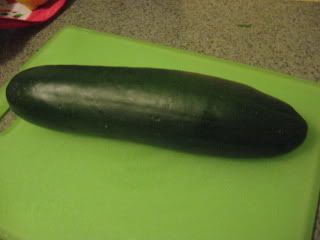 Cut it in half lengthwise
And scoop out the seeds
Now dice it up.
Move the drained sour cream to a bowl.
Add the diced cucumber.
Chop the garlic. (I chop so much garlic, I should use stock photos for this!)
Add that to the sauce.
Salt & Pepper
Fresh lemon juice.
Stir well and set aside.
Now the chicken is ready to grill. I just used my Foreman Grill, because I didn't want to mess with charcoal last night.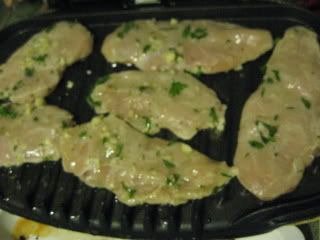 YUM! LOVE the butterflied breasts!!!
Set them aside for 5 minutes.
I heated my pitas in the microwave, but if I had thought about it, I would have thrown them into a cast iron skillet for a minute.
Add some cucumber sauce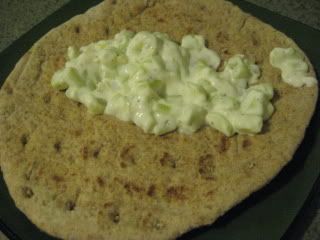 Lettuce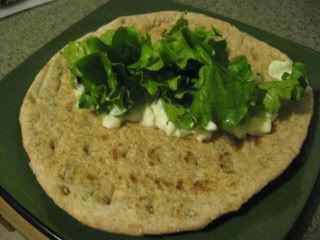 Some of that YUMMY grilled chicken
Onions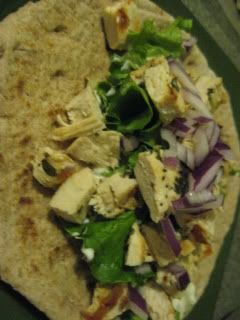 Tomatoes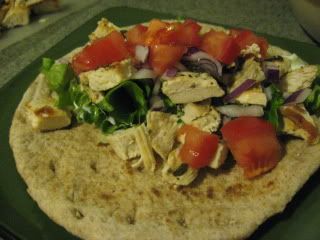 More sauce!! (cuz it's SO good!!)
Fold it up and enjoy!!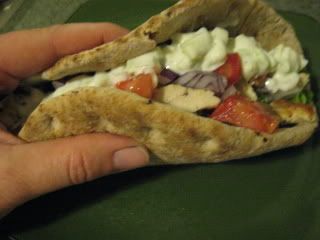 I'll definitely make these again!
Thanks Aaron!