Last night I wanted a snack, but had no idea what I wanted. Jon suggested a coffee milkshake. I had made some a couple weeks ago and they came out great!
I went downstairs and discovered that Bobby has used up the last of my coffee syrup. I can't buy that here in Pittsburgh. I get lots every time I go to MA, and my mom occasionally sends or brings me a bottle or two. But right now, I'm out! But now I want a coffee milkshake and all I have is espresso powder. Which does go into my coffee milkshakes, but I needed a syrup of some kind. Then it hit me! Kahlua!! I thought I only had Hazelnut Kahlua, so I used that. (as it turns out, I do have an almost full bottle of regular Kahlua too!)
But anyway... this was last night's snack! Who needs coffee syrup!
Hazelnut Espresso Milkshake
1 C cold milk
1 scoop coffee or vanilla ice cream (preferably coffee)
1 tsp instant espresso powder
a shot (or two) Hazelnut Kahlua
Combine all ingredients in blender.
Blend until smooth.
Enjoy!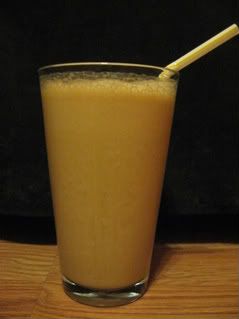 This would also be great with a couple tablespoons of chocolate covered espresso beans blended in!