Here's an oldie I pulled off of my long neglected website. I LOVE chicken parmesan! I usually make it for my friend Ericka's birthday, but she was out of town this year. I think we'll have to have a belated birthday celebration. That would also give me a chance to try out some new cupcakes too!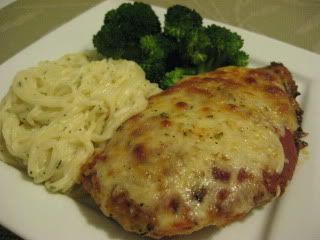 Chicken Parmesan
2 eggs, beaten
1 cup grated Parmesan cheese (or Parmesan & Romano)
1 1/2 C Italian seasoned bread crumbs
1 Tbls Italian Herb seasoning
3 - 6 cloves garlic, minced
6 skinless, boneless chicken breast halves
1 - 2 Tbls olive oil (or GARLIC olive oil ~ YUM)
12 ounces marinara sauce
6 - 8 oz shredded mozzarella/provolone cheese
Preheat oven to 375F
Put the chicken in a heavy plastic bag.
Pound breasts to about 1/4 inch thick.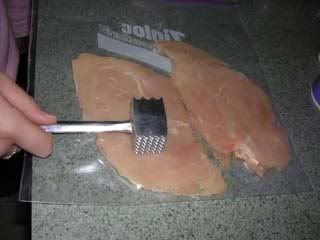 In a shallow dish or bowl (I like to use a pie plate), mix together the grated Parmesan cheese, Italian Herb Seasoning and bread crumbs.
Pour beaten eggs into a shallow dish or bowl. Dip chicken breasts into beaten egg.
Then into bread crumb mixture to coat.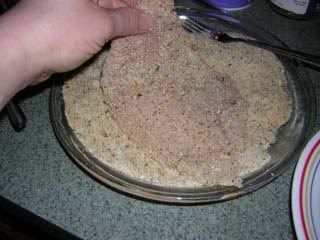 In a large skillet, heat oil over medium high heat add minced garlic brown lightly. Add coated chicken and sauté for about 8 to 10 minutes each side, or until chicken is cooked through and juices run clear.
Pour some of the marinara sauce into a lightly greased 9x13 inch baking dish.
Add chicken breasts.
Pour the rest of the marinar sauce over chicken.
Then cover each breast with shredded mozzarella/provolone cheese.
Bake in the preheated oven for 20 minutes or until cheese is completely melted.
Serve with angel hair pasta, a nice garden salad and garlic bread!