I needed something Asian or Spicy to go with a couple bottles of Gewurztraminer wine.
My original thought was to make my
Spicy Curried Potato Pockets
. Then at the last minute I decided I wanted to invite friends over for wine tasting and make an Indian dinner.
That's when I thought of Tandoori Chicken.
Yay! I had a plan! Start with Spicy Curried Potato Pockets... then Tandoori Chicken. I also decided to make a Sweet Coconut Curried Rice to balance out some of the heat.
Until I made it, I'd never actually tried Tandoori Chicken.
I'm not totally sure if this tasted
right
but it was wicked good!
After looking at a bunch of recipes on line, I put this together based on my spice likes.
Tandoori Chicken
4# chicken breasts & thighs, boneless/skinless cut into serving sized pieces
1.5 C plain yogurt
1 medium onion diced
6 cloves of garlic, minced
2 TBLS lemon juice
2 TBLS ginger root, grated
2 tsp garam masala
1 TBLS ground cumin
1 TBLS paprika (I used smoked, since I didn't plan to grill... but ended up grilling anyway)
1 tsp turmeric
1 tsp cayenne
1 tsp corriander
1 tsp salt
several grinds of black pepper
Combine all ingredients other than chicken until mixed well... add chicken mix until all pieces are well coated.... refrigerate overnight (or at least several hours)
Grill over medium coals until chicken is cooked through.
Sweet Coconut Curry Rice
2 C jasmine rice
1 can light coconut milk
chicken stock (enough to make 4.5 cups when added to the coconut milk)
1.5 tsp sweet curry powder
a sprinkle of ground cardamom
Combine in rice cooker and cook according to rice cooker directions.
~~~~~~~~~~~~~~~~~~~
The night before...
For the Tandoori Chicken, mix together everything except the chicken.
When that's well mixed, add chicken pieces.
Be sure that all pieces are well coated and refrigerate at least several hours, preferably closer to 24 hours.
I just used a plastic storage bag.
Fast forward to the next day... turns out no one could make it for dinner...
It was a last minute invitation, so that's ok. You'll see what I did with the leftovers further down!
I was originally going to do this in the oven, since I don't have a tandoor... but most recipes I looked at advised grilling over roasting.
It was a gorgeous 70 degree November day... so I asked Jon to fire up the grill for me!
Grill until chicken is cooked through.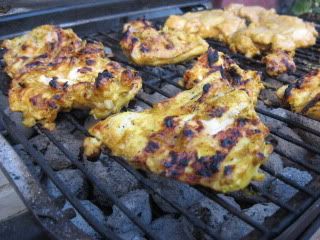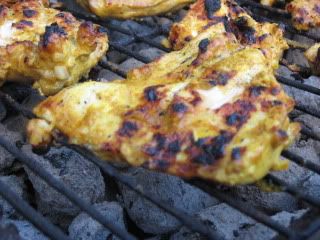 Before I started grilling, I started the rice in the kitchen. I love using a rice cooker. Set it and you're done!
Add a nice scoop of rice and it's dinner time!!
This was perfect with the Gewurztraminer I picked for this month's wine tasting!
I'll be posting about the wine tasting tomorrow!
Dinner really was awesome. But we did have a lot of leftovers.
What to do with leftover chicken & rice?
Wraps of course!!
I mixed up a Spicy Curry Mayo...
Mix light mayo w/hot curry powder to taste (better if it can sit for 15 minutes for flavors to blend)
Nuke a flour tortilla for a few seconds to make it nice an pliable...
A good schmear of Curry Mayo...
Some shredded lettuce...
Some reheated Sweet Coconut Curry Rice...
Some reheated, sliced grilled Tandoori Chicken...
Then just roll it up and eat it!!
As awesome as this was for dinner the first night... as a leftover wrap it was totally AMAZING!!
I really LOVED it and would happily have spent $6 - $8 bucks on it from a Sandwich Shop.
So that's it!
Stay tuned for Wine Tasting!