What do I like better than meatloaf?
Ok... probably lots of things. But let's stick to the meatloaf category!
Meatloaf Sandwiches!
I LOVE them!! I'd prefer to make meatloaf in the morning, so I can have a cold meatloaf sandwich for dinner!
I was in my 20s before I'd ever tried one.
A friend/co-worker invited me to her house for lunch. When we got there, she said we were having Meatloaf Sandwiches.
She asked how I'd like mine. I told her I'd never had one before and to just make mine the way she makes hers.
And so she did!
The sandwich starts with cold meatloaf. Sounds kinda gross... but it's so good!
Cut off a slice.
See the curve of the top of the meatloaf...
I like to match that to the curve of the bread.
Usually you can make it fit perfectly inside the sandwich.
Next up...
White bread.
Mayo on one half... Ketchup on the other...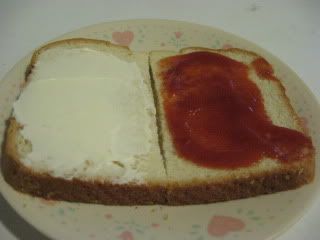 If you're weird like me, carefully fit your meatloaf slice into the bread...
Matching the curve of the meatloaf to the curve of the bread...
Time to eat!
99% of the time, this is breakfast the morning after a meatloaf dinner.
Mmmm.... cold meatloaf sandwich!
Perfect for breakfast, lunch or dinner!
If you're out there Kathleen... thanks for introducing me to the Meatloaf Sandwich!!