Quite a while back I was looking for a cookie recipe that included curry.
I don't know why. But I had to find one.
Well... a quick Google search quickly pointed me to these Curry & Cardamom Cookies in the recipe section of
The Spice House
.
It's a recipe from a book called
An Unthymely Death and Other Garden Mysteries: A Treasury of Stories, Herbal Lore, Recipes and Crafts
by Susan Wittig Albert.
I've heard there are lots of great recipes in her novels. I might have to pick one up!
Great! I found a recipe that was exactly what I was looking for.
Fast forward almost a year... and I finally got around to making them!
Ericka and I had a spice cookie baking day a couple weeks ago and this was one of the cookies we made.
Curry & Cardamom Cookies
1 C butter
2 C brown sugar
2 eggs, lightly beaten
2 tsp vanilla extract
3 C flour
1 tsp baking powder
1/2 tsp baking soda
1/2 tsp salt
2 tsp sweet curry powder
1/2 tsp ground cardamom
1 cup pecans, chopped
Cream butter and sugar together. Add eggs and vanilla and beat until incorporated.
Whisk dry ingredients together. Add to creamed mixture, a third at a time. Stir in nuts.
Divide dough into four rolls and wrap each in waxed paper. Refrigerate at least 4 hours (may also be frozen).
Slice into 1/4-inch slices and place on a baking sheet lined with parchment paper. Bake in preheated 350F oven until golden brown, 12-14 minutes. Let cookies cool for 2 minutes on baking sheet, then remove to a rack to cool thoroughly.
~~~~~~~~~~~~~~~~~
Cream butter, sugar, eggs & vanilla.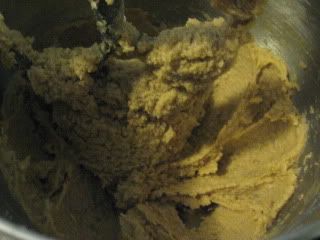 Whisk together dry ingredients
Add dry ingredients to wet, a little at a time until well combined.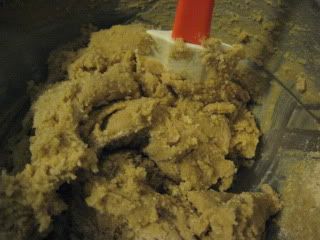 I totally forgot the nuts.
Divide dough into four even parts.
Form into rolls, wrap and refrigerate at least 4 hours.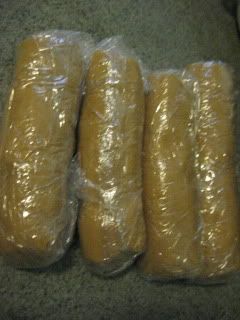 When you're ready to bake... unwrap...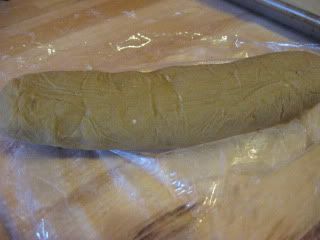 Slice into 1/4 inch slices.
And bake 12 - 14 minutes.
That's 12 minutes in my slightly hot oven.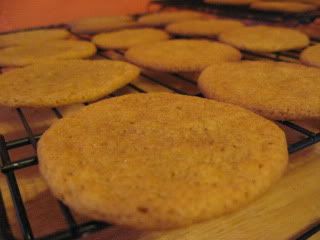 Jon didn't like these cookies at all. But he Jon doesn't like any kind of spice cookie. I liked them a lot. But they are a crisp cookie and I prefer cookies a little chewier.
I brought them to work and the guys at work liked them. I doubt they ate a whole tray of them just to be nice. (
contrary to what Jon thinks
)
I also sent some up to Erin and Andrew's house. I 'think' they liked them. Andrew said it tasted like a cookie that fell into Indian food. So I guess that's good if you like Indian food and not so good if you don't!
Ericka and Drew liked them too.
So if you're looking for something a little different, definitely give these cookies a try!