So... I had 4 pounds of chicken wings left over that never got fried for the game.
What to do with them?
I certainly don't want to freeze them! I buy them from Whole Foods, because they are fresh and never frozen. So throwing them into my freezer for a later date just seems wrong.
Hot wings for dinner? Well... it certainly wouldn't be the first time!
But I decided something Asian sounded good.... so I started scouring the web.
I found this Emeril Lagasse
recipe
.
Roasted Asian Chicken Wings
4 pounds chicken wings
1 TBLS Emeril's Asian Essence
I made my own... see below
1 tsp salt
No need for this in addition to the Asian Spice Rub
1/2 tsp ground white pepper
No need for this in addition to the Asian Spice Rub
2 C fresh orange juice
1 C canned pineapple juice
1 C sugar
1/2 C soy sauce
1/2 C mirin
2 TBLS orange zest
2 TBLS minced garlic
2 TBLS minced fresh ginger
2 TBLS minced green onions
1 TBLS sesame oil
3/4 tsp crushed red pepper
2 TBLS sesame seeds
2 TBLS diagonally sliced green onions, for garnish
Preheat the oven to 425F.
Line a baking sheet with sides with aluminum foil.
In a large skillet, combine everything except the chicken wings, Asian spice rub, sesame seeds and green onion. Bring to a boil, stirring occasionally, until the sugar is dissolved and the liquid has reduced to a syrup.
While the sauce is cooking, in a large bowl, season the chicken wings with the Asian Seasoning and toss until they are well coated. Spread the seasoned wings in the prepared baking sheet evenly and bake until browned, about 35 minutes.
Remove the wings from the oven and reduce the oven temperature to 350F.
Place the wings in a large, heat-proof bowl. Drizzle half the prepared sauce over the wings, reserving the other half, tossing to coat well. Sprinkle the sesame seeds over the wings and toss again. Place a wire cooling rack inside the large baking sheet lined with aluminum foil and arrange the coated wings on top of the rack. Return the pan to the oven and bake an additional 20 to 25 minutes, or until cooked through and crispy.
Arrange the wings on a large serving platter and top with sliced green onions. Serve immediately with the remaining sauce passed on the side for dipping.
Asian Spice Rub
2 1/2 TBLS paprika
2 TBLS salt
2 TBLS garlic powder
1 TBLS black pepper
1 TBLS onion powder
1 TBLS cayenne pepper
1 TBLS oregano
1 TBLS thyme
1 TBLS Chinese Five Spice
This makes a big batch. Save the rest for other Asian spice rub needs.
~~~~~~~~~~~~
So combine all the sauce ingredients in a skillet.
(I really need to filter those LEDs above my stove!)
Bring it to a boil.
Cook, stirring occasionally until sauce has reduced and is syrupy.
Time to prep the wings.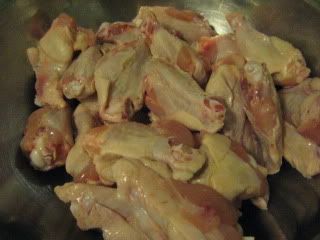 I always pat them dry, to make them crispier.
And mix with Asian Spice Rub.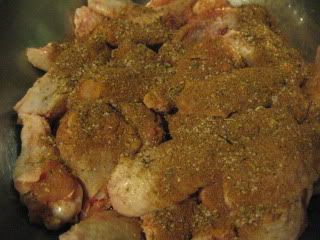 Toss until well coated.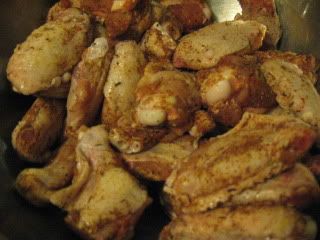 Spread them on prepared tray and bake.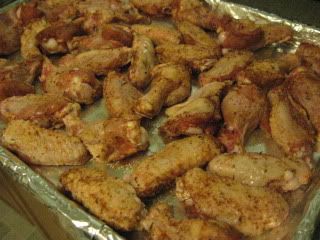 Meanwhile, keep an eye on that sauce...
So the wings are browned... pull them out of the oven and reduce the temp to 350F.
Put them in a heat proof bowl...
And toss with half of the sauce.
Don't they look yummy already??
Arrange a cooking rack in the baking sheet.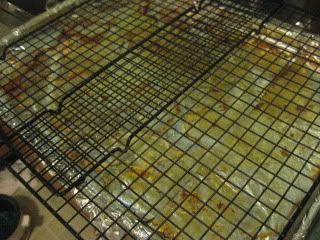 Mine didn't quite fit! But it worked out ok. =)
Put those beautiful sticky wings on the rack.
And back into the oven for 20 - 25 minutes.
Mmmmmm...
Garnish with green onions and sesame seeds.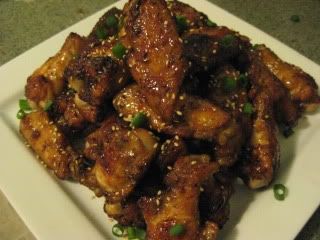 I served them with fried rice.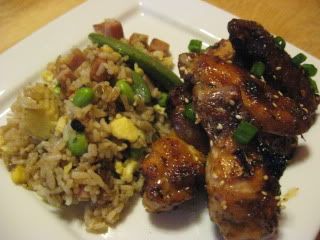 These wings were VERY sticky!
Typically... I hate sticky things... but they were soooo tasty I didn't care at all!!
Ok... I cared enough to go get a wet wash cloth to use at the table. But I wasn't going to let
sticky
keep me from these!
And check out that fried rice...
That was just a bag of frozen Asian veggies. There were water chestnuts, snap peas, edamame, baby corn, peppers, onions... a wicked yummy mix!
This dinner totally ROCKED! And the Asian Spice Rub is definitely a keeper too!!! I can't wait to put it on Asian BBQ Ribs!