Probably about 9 years ago, I started trying to find a meatloaf recipe that I really liked.
I'd add different spices and herbs... different veggies... plus cheese... no cheese... different sauces... bacon...
But none of them seemed to be what I was looking for. I think part of the problem was that I wasn't sure what I was looking for.
Then I started dating Jon, a single dad to a preschooler, who started cooking to feed his daughter.
He used his Fanny Farmer Cookbook to add a couple dishes to his repertoire.
One of them was meatloaf.
He made it for us when we were visiting him, before we moved down there.
It was the meatloaf I had been looking for!
I had been trying to fancy it up... but what I was looking for was a plain old basic meatloaf!
Meatloaf
by Fanny Farmer
mostly
2 C bread crumbs
1 onion, finely chopped
2 eggs, slightly beaten
2 lbs ground beef
2 TBLS Worcestershire sauce
1 1/2 tsp dry mustard
1 1/2 tsp salt
1/2 tsp pepper
3/4 C milk
I use beef broth instead
Preheat oven to 350F.
Combine all ingredients. Press into loaf pan. Bake for 45 minutes.
That's it! Easy right?
~~~~~~~~~~~~~~~~~~~~
Let's start with Jon's cookbook.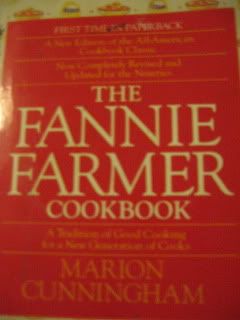 I stuck a little sticky heart in there before I moved to Pittsburgh.
I wanted him to find it next time he made meatloaf for Lilly.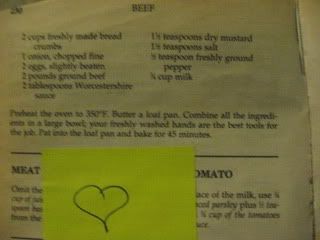 And another little note for the next time he made Lyonnaise Potatoes.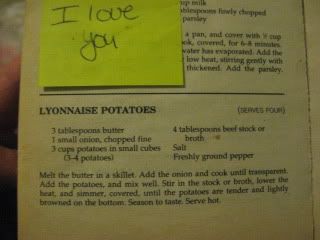 The notes are still there. =)
Anyway...
I like to use the meatloaf mix... beef, pork & veal.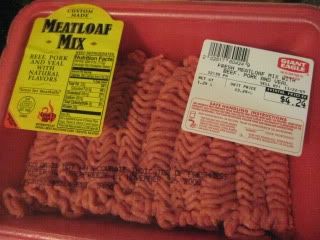 Sometimes they only have beef & pork.. I just grab whatever they have.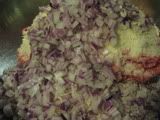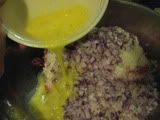 Yeah... I didn't have dry mustard, so I just squirted in some yellow.
Mix it all together with your hands.
I prefer to just make a loaf shape on a baking sheet.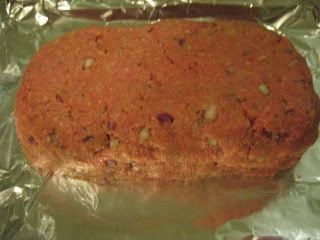 And into the oven for 45 - 60 minutes at 350F.
Yeah... if this post wasn't labeled meatloaf... would you know what that was??
Me either!
I should have waited a few more minutes to cut it, so the juices calmed down a little!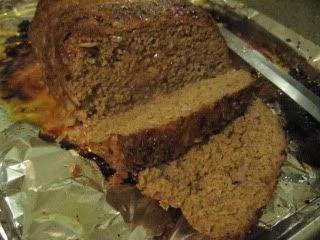 And I always serve meatloaf with mashed potatoes.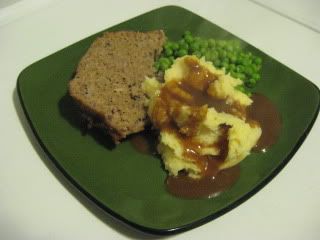 The steam kinda makes the peas look like a mirage. hehe
Mmmmmm....
Jon covers his with horseradish. We also use A1 or ketchup. Everyone dresses theirs a little differently.
So there it is! Now that I've grown accustomed to the basic meatloaf I was searching for, it's time to start trying out those more interesting meatloaves!
Oh yeah... does anyone else have trouble typing meatloaf? At least 75% of the time, I type meatload first!! Then I have to correct it!
Weird!