Fried Chicken & Waffles.
I think Jon and I must have seen this on FoodTV, maybe Feasting on Asphalt or Diners, Drive-ins & Dives, or maybe a History Channel show about food?
Maybe a show about Roscoe's House of Chicken & Waffles? I have no idea.
But Jon saw it and had to have it.
He asked me to make it at least once a week for several months or more.
I finally made it for him!
And... much to my delight... he said it was even better than he thought it would be!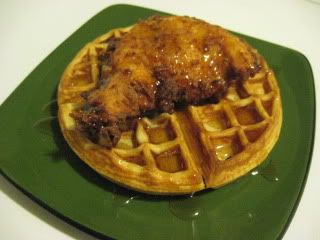 I had planned to just use a recipe from the little recipe book that came with my waffle maker. But sadly, it is no longer in the box.
So first thing, I had to find a waffle recipe.
I found
this
recipe at allrecipes.com. It had 4.5 stars and 669 reviews.
That should work!
Waffles
2 eggs
2 C flour
1 3/4 C milk
1/2 C vegetable oil
1 TBLS white sugar
4 tsp baking powder
1/4 tsp salt
1/2 tsp vanilla extract
Preheat waffle iron. Beat eggs in large bowl with hand beater until fluffy. Beat in flour, milk, vegetable oil, sugar, baking powder, salt and vanilla, just until smooth.
Spray preheated waffle iron with non-stick cooking spray. Pour mix onto hot waffle iron. Cook until golden brown. Serve hot.
Easy enough! I decided that rather than trying to get waffles and fried chicken all cooked at the same time, I'd make the waffles ahead of time and heat them up when the chicken was ready.
Whisk up the waffle batter.
While the waffle iron is preheating.
This is only the second time I've used my waffle iron.
It took a couple of waffles to get the right amount of batter into the iron.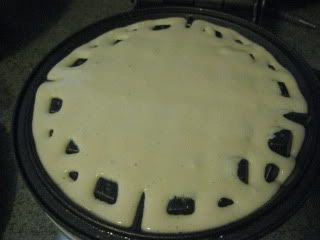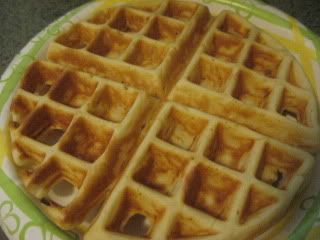 Ok... waffles are done... I'll pop them into the oven when the chicken is almost ready.
Now it's my understanding that Fried Chicken & Waffles are served with pancake syrup. That didn't sound very good to me. So I have pancake syrup for Jon... but I also whipped up a quick chicken gravy.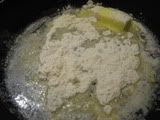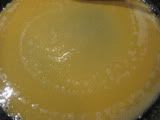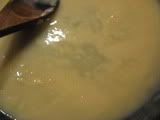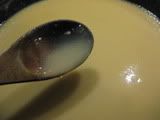 So... waffles are done... gravy is done... chicken has been soaking in buttermilk & hot sauce.
Just need to
Fry the Chicken
.
For Jon... drizzled with syrup...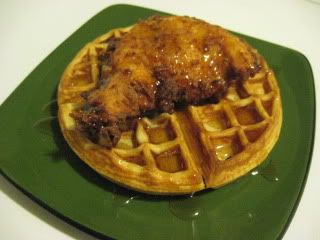 For Tawny & I... covered with chicken gravy...
Bobby had his separate... but then did enjoy dipping his chicken in the pancake syrup.
Jon said he really liked the sweet syrup with the slightly salty fried chicken.
Nice!!
Toad in the Hole... CHECK
Fried Chicken & Waffles... CHECK
I don't think there's anything else on his list... but if he reads this, I'm sure he'll let me know!