I picked up Progresso Soups & More Magazine; October 20, 2009 edition.
I flip through these little magazines at the grocery store all the time. It's rare that I can resist them. I usually end up buying a few a month.
Jon says I need to make at least one recipe from every one that I buy.
So here's the one from this one!
Actually... there are a couple others I'd like to try too.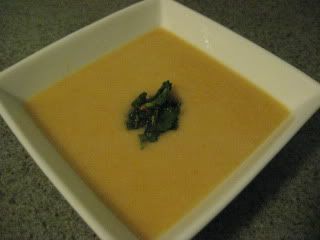 Super-Tuscan White Bean Soup
Soup:
4 slices bacon, finely chopped
1 medium yellow onion, cut coarsely
1 medium carrot, cut coarsely
1 medium celery stalk, cut coarsely
(I used two)
2 cloves garlic, lightly crushed
(I used four)
4 15oz cans cannellini beans, drained
1 dried bay leaf
1/2 C dry white wine
4 C chicken broth
Topping:
2 TBLS olive oil
1 TBLs garlic, finely chopped
(I used more)
1/2 tsp crushed red pepper flakes
1/4 basil, sliced
salt & pepper
In a dutch oven or stock pot, cook bacon, onion, celery, carrot and garlic for 5 minutes.
Add beans, wine, broth and bay leaf. Cover and cook for 20 - 25 minutes; until veggies are tender.
While that's cooking, heat olive oil in a hot skillet. Add garlic and cook until just golden. Add crushed red pepper; cook for a minute. Add basil and cook until wilted.
When veggies in the soup are tender, blend soup with a stick blender, until there are no chunks of anything left.
Ladle into bowls, top with a big pinch of basil mixture and enjoy!
~~~~~~~~~~~~~~~~~~~
Cook veggies and bacon for about 5 minutes.
Add broth, wine, beans and bay leaf.
Cover and cook for 20 - 25 minutes or until veggies are tender.
While the soup is cooking, make the topping.
That only took a few minutes... so while you're waiting for the soup to finish cooking you totally have time to whip up a couple of refreshing
POM Spritzers
ala
Gypsy Girl Gourmet
.
So the soup should be done now.
I used my stick blender for this, but you can definitely use your food processor.
Don't forget to pluck out the bay leaf.
Now let 'er rip!
It's the consistency of pea soup when it's all blended.
Ladle it into a bowl and top with some of the basil topping.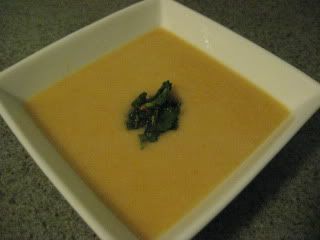 I served it with
Scallion Cheddar Panini
. I love love love those little cheesy scallion sammies!
Jon and I really enjoyed the soup. He said he would have preferred whole beans in his bean soup, but still liked it. Bobby is pretty picked and he didn't like it; but I didn't expect him too. Tawny said it "smelled like meat"... "kielbasa or something". I told her it was the bacon and she'd probably really like it. I think she got kielbasa stuck in her head (she is not a fan) and didn't like the soup... however she does LOVE the little sammies!
This soup is definitely a winner. Thick, hearty and warming. A perfect meal as the nights start getting colder.
I'm not the only one with soup on the stove. If you're ready for some satisfying fall soups, here are few that caught my eye!
There's Potato Onion Soup simmering on Joanna's stove over at
go ahead and snicker
.
Heather from
girlichef
has the wonderful aroma of Orecchiette, Sausage & White Bean Soup wafting through her house.
Dajana over at
Baker's Corner... somewhere in my kitchen
can't make enough of her Chickpea Cream Soup, because it's such a family favorite.
There is no shortage of FABULOUS soups coming out of Natashya's kitchen at
Living in the Kitchen with Puppies
...
Vietnamese Chicken Pho
,
Autumn Barley Soup
, and
Thai Coconut Chicken Soup
, just to name a few... but Natashya has
DOZENS
and you should really browse through.
Cathy over at
Accountants can cook?
has a hearty Gumbo ready to take the chill off.
I could go on and on! Are you ready to get your soup on?