Yup... still on a bit of a soup kick.
Last week was unseasonably cold. The Perry High Homecoming Game was also last week... in the rain... and below 40F! (Perry killed.... 31-0... YAY!)
I thought after a cold soggy night of cheering in the rain, Tawny would like some nice warm soup.
She used to LOVE the Broccoli Cheese Soup at Panera. After the game I excitedly let her know that I had just made some Broccoli Cheese Soup... just like she loves from Panera.
She had no recollection of ever having it!! UGH! I swear, she really did like it! I took her there a few times and she always ordered it and raved about it.
Did my soup spark her memory? NO! But she did like it! Whew!
Broccoli Cheese Soup
(a copycat to Panera's Broccoli Cheese Soup)
2 TBLS butter, melted
1 medium onion, chopped
1/2 C melted butter
1/2 C flour
4 C half-and-half
4 C chicken stock (or veggie stock for vegetarian version)
1 pound
roasted broccoli
(you can use raw)
2 cup carrots, julienned
Salt and pepper to taste
1/2 teaspoon nutmeg
16 oz grated sharp cheddar cheese
Saute onion in 2 TBLS butter. Set aside.
Cook melted butter and flour using a whisk over medium heat for 3-5 minutes. Stir constantly and slowly add the half-and-half. Add the chicken stock whisking all the time. Simmer for 20 minutes.
Add the broccoli, carrots and onions. Cook over low heat until the veggies are tender for 20-25 minutes. Add salt and pepper. The soup should be thickened by now. Puree with stick blender. Turn heat to low and add the grated cheese; stir until well blended. Stir in the nutmeg and serve.
Garnish with Croutons.
~~~~~~~~~~~~~~~~~~
Saute your onions... and set them aside.
Make a roux with the butter and flour.
Stirring constantly, slowly add half & half.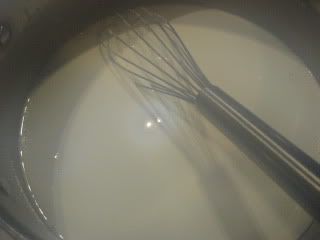 Whisk in chicken stock and simmer for 20 minutes.
Add Roasted Broccoli (I made extra earlier in the week)
And Julienned Carrots (please ignore my less than stellar knife skills!)
And onions to the soup.
Simmer 20-25 minutes, until veggies are tender.
So while that was simmering, I made some croutons.
I picked up a loaf of Olive Oil bread from the bakery at the grocery store.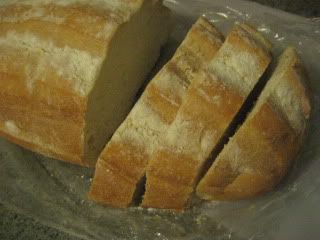 Cut it into cubes and tossed it with Penzey's Sandwich Sprinkle.
Then I toasted them in a pan with a little olive oil.
Ok... veggies are tender... (and steamy)
Time to blend!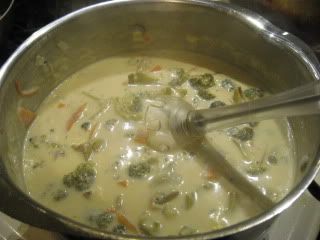 Blend until there are no chunks left.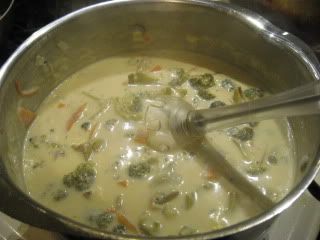 Time to add the cheese!
Stir until the cheese is all melted.
Grate in a little nutmeg and stir that in.
Soup's on!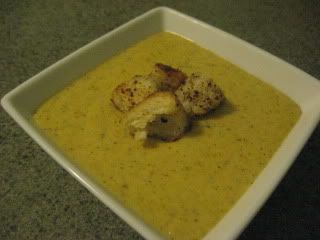 I love the golden color with the little flecks of green and orange and brown.
This is a wicked thick, rich soup. And even though I prefer brothy soups, I really enjoyed this soup. Tawny loves creamy soups and really liked this one.
Perfect soup for a damp chilly night!
Have a great weekend!