I have to say, it had never occurred to me to make any apple pie other than my mom's apple pie.
I mean why would I, right? Mum's pie rocks!
But as previously teased, I took one look at the title,
Dulce de Leche Apple Pie
and started drool!
Laura at
The Cooking Photographer
had me hooked and I wouldn't be able to bake anything, until I tried her pie!
I kept thinking, I'd just add Dulce de Leche to my mom's pie, then decided that it was time to branch out a bit!
I'll still be making Mum's pie... but this pie totally rocks too!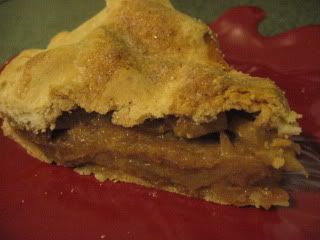 This is very slightly adapted from Laura's recipe.
Dulce de Leche Apple Pie
Double crust for 9" pie
(I purchased mine too)
Egg white mixed with a teaspoon of water
(I kinda omitted this)
5 C peeled and sliced mixed apples
1/4 C
Dulce de Leche
2 TBLS apple cider
1/2 C brown sugar
1/3 C granulated sugar
1/3 C cornstarch
1/2 tsp vanilla extract
1/4 tsp cinnamon
(I used 1/2 tsp)
1/4 tsp freshly grated nutmeg
Pinch of salt
1 TBLS of butter for dotting pie
(oops totally forgot this)
Preheat oven to 375F.
Mix sugars, cornstarch, cinnamon, nutmeg and salt.
Whisk together,
Dulce de Leche
, apple cider and vanilla.
Toss sliced apples with Dulce de Leche mixture. (I used MacIntosh & Honey Crisp)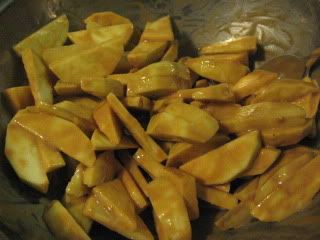 Toss the Dulce de Leche coated apples in the sugar mixture.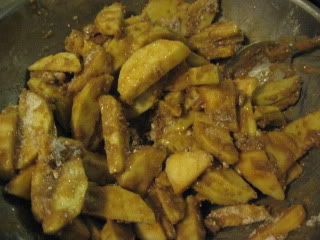 Then into your prepared pie crust.
Top with remaining pie crust, crimp and vent.
I usually just moisten my hands with water, slightly dampen the top crust with my hands and sprinkle with my standard cinnamon/sugar/nutmeg mix that I keep on hand for apple crisp or cinnamon toast. That's what I did instead of the egg whites.
Cover the crust with foil, so it doesn't get over done.
And into the oven for about an hour.
Remove the foil half way through.
Let the pie rest for several hours, so the filling can set.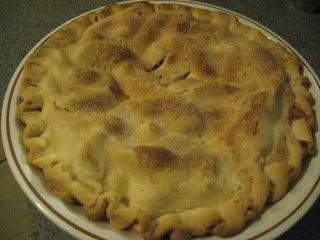 Everyone really loved this pie!
When I make baked apple desserts, I always use MacIntosh apples and usually mix them with some other kind. I mixed them with Honey Crisp this time and was VERY pleased with the results. The Honey Crisp slices stayed much firmer than the MacIntosh and the texture of the pie was great!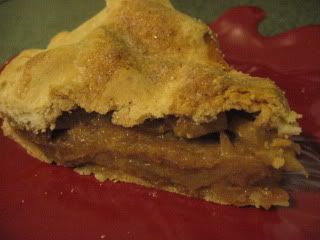 Laura this recipe ROCKS!
This is for you!
I'll definitely be making this again!
(Don't worry mum... I'll definitely still make yours too!)
It's fall... I know you all are out apple picking! You should make Laura's pie!