This is an oldie.
Remember...
Rotisserie Chicken is your Friend
?
This is a yummy recipe (slightly adapted) from Pillsbury Best Ever Chicken July 2009.
White Chicken Pizza with Caramelized Sweet Onions
2 TBLS butter
3 C thinly sliced sweet onions
1 tsp sugar
1 tsp thyme
2 oz garlic herb cream cheese
1 pre-baked pizza crust
1/3 C prepared Alfredo sauce
1 C shredded rotisserie chicken
1/4 C Italian blend shredded cheese
Melt butter in a skillet and cook onions and sugar for 20 to 25 minutes, until deep golden brown and caramelized; stir in thyme leaves.
Stir cream cheese & Alfredo sauce together. Spread over pizza crust. Top with chicken, then onions, then shredded cheese.
Bake in 450F oven for 10 minutes or until heated through.
~~~~~~~~~~~~~~~~~~~~~~~~~~~~
Still beautiful!
Shred some of that convenient chicken.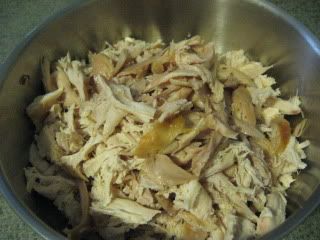 Caramelize the onions.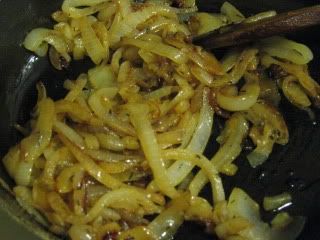 Stir together garlic herb cream cheese and Alfredo sauce.
Spread cream cheese mixture over pizza crust and top with chicken, onions and cheese.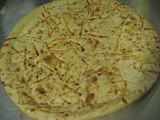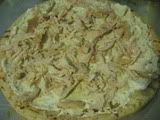 And into the oven!
I really liked this a lot. But I think I'm the only one!
I used sweet onions, but think it would have been better with a sharper onion. But that's just me!
I KNEW Jon and Bobby would want nothing at all to do with it.
So I made this for them.
Tawny ate it, but I don't think she was a big fan. She loves onions, but prefers them raw.
Mmmm.... love caramelized onions!
I'd make this again. It would make a nice party appetizer.