I don't remember when I started doing this. But probably within the last year, I realized that veggies totally ROCK when you roast them.
They are ready super fast and don't take much prep either.
We used to eat a lot of steamed broccoli, but roasted is BY FAR the favorite now!
No real recipe.
Enough Broccoli for your family
A bit of Olive Oil
Seasoned Salt & Pepper
Sometimes I add some big onion rings or minced garlic or some parmesan cheese.
Just lay it all out on a baking sheet in a single layer and drizzle with olive oil and sprinkle on seasoned salt & pepper.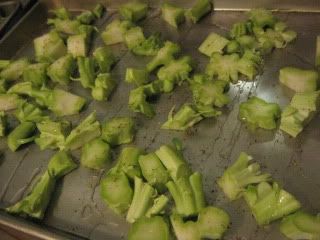 Throw on some onions or garlic or parm.
Put it into a 450F oven, until the edges just start to brown.
Lots of little browned edges...
That's it!
It's so easy... but sooo tasty!
Only Tawny & I eat broccoli stems and normally I wouldn't cook them. I knew I'd be making some Broccoli Cheese Soup later in the week, so I roasted those too.
Quick easy and the only veggie that everyone in my house actually likes.
Stay tuned for Broccoli Cheese Soup!