And another oldie, from the Pillsbury Best Ever Chicken July 2009 magazine.
A quickie with Rotisserie Chicken.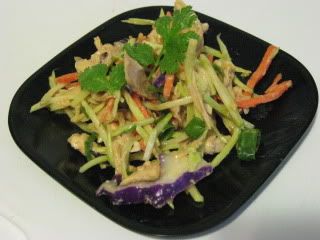 Shredded Thai Chicken Salad
Salad
2 C shredded rotisserie chicken
1 C julienne carrots (match-stick cut)
1 C broccoli slaw mix
1 large green onion chopped
Dressing
2 TBLS creamy peanut butter
2 TBLS rice vinegar
1 TBLS vegetable oil
1 TBLS honey
4 tsp soy sauce
1/8 tsp red pepper sauce
Garnish
fresh cilantro
peanuts
In a large bowl, toss all of the salad ingredients together.
In a small bowl, whisk together dressing ingredients. Just before serving, drizzle over salad and toss until evenly coated.
Garnish with cilantro and peanuts.
How easy is that??
So... a quick stop at the store for a rotisserie chicken.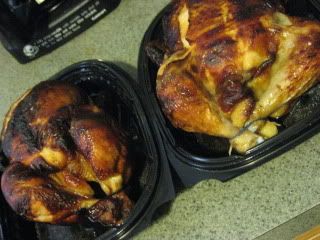 Yup... I bought two... it was an exceptionally easy dinner week for me!
Shred that beautiful meat.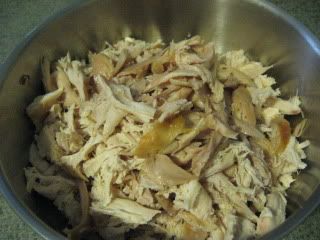 Toss the salad ingredients together.
Whisk together dressing ingredients.
Toss the salad with the dressing.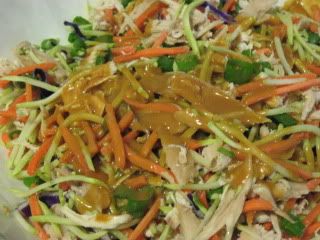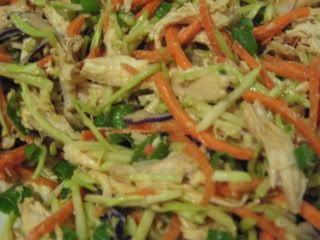 Garnish with cilantro (and peanuts, but I just thought of them while typing this out... maybe while we were eating it too... the original recipe didn't call for them but I thought they'd be really nice!)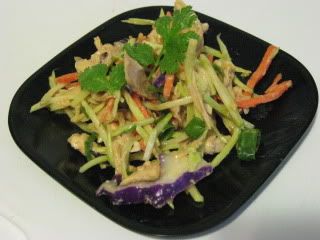 It probably took me longer to type this than it did to actually make it!
Wicked fast and easy... Wicked Tasty!