Have you tried this stuff??? OMG!! It's
so
good!
The first time I had it, a co-worker brought in some his daughter made for the Super Bowl (YAY Steelers!). It was awesome, just cold out of the fridge.
The next time I had it was at the first official
BakeSpace Cookover
. Karen picked recipes from BakeSpacers who couldn't attend and we made them to share. One of the recipes she picked was
Joy's Buffalo Chicken Dip
. Yum!! This time I got to have it warm. *drool*
We often have friends over to watch the Steelers play on Sunday afternoons. Last week it was a 1pm game. I prefer the 4pm games, because then I have more prep time. Anyway... 1pm game means things I can make ahead... or things that don't take much time. Buffalo Chicken Dip definitely doesn't take much time (hey... you could easily make it ahead too!)
Buffalo Chicken Dip
2 C cooked, shredded chicken
2 (8 oz) packages cream cheese, softened
1 C blue cheese dressing
3/4 C pepper sauce, such as Franks Red Hot®
1 C shredded cheddar cheese
tortilla chips or celery sticks(for you low carbers!)
Heat chicken and hot sauce in a skillet over medium heat, until heated through. Stir in cream cheese and blue cheese dressing. Cook, stirring until well blended and warm.
Mix in the shredded cheese and transfer the mixture to a slow cooker. Cover, and cook on low until hot and bubbly.
Serve with tortilla chips and/or celery sticks.
This is good hot, warm, room temperature or cold!
~~~~~~~~~~~~~~~~~~~~
Yup... my friend the Rotisserie Chicken.
(I always eat the wings while I pull all the meat off of these!)
Heat the shredded chicken and hot sauce in a skillet.
Add cream cheese and blue cheese dressing.
Stir in cheddar.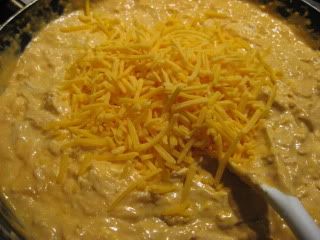 Into the mini crock pot... and it's game time!!
(or at least snack time!)
Even though everyone was totally groovin' on this, there was a lot leftover.
(Tawny even filled a hotdog bun with dip and some chips and had a Buffalo Chicken Dip Chip Dog)
It makes a really big batch.
What to do with the leftovers? Hmmmm.... Buffalo Chicken Dip Pizza? That might work, right?
I grabbed a couple of Boboli Pizza crusts on my way home the next day.
Spread the dip over them
Bake in a 450F oven until heated through and golden.
Not too bad...
Not bad at all...
How about with some pepperoni?
Careful... it just looks like a regular pepperoni pizza...
But Buffalo Chicken Cheesy and pretty darned good!
While Jon really liked the dip... he was not a big fan of the pizza. But in general, he's really not a pizza fan anyway.
Tawny and Lilly however, really loved it!
Although, Tawny had plans for another Buffalo Chicken Dip Chip Dog, so she would have been happy if the leftovers had remained left over a little longer.
This is definitely a keeper and is super insanely fast and easy!