I love
Sangria
! I think I like red best, but I wanted to try to make a tropical white sangria.
This is basically the same recipe I tried before, but I changed the wine to Sauvignon Blanc and changed the fruit.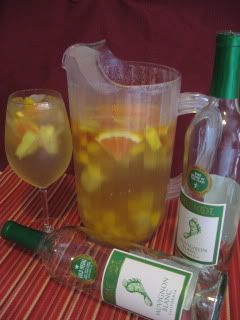 Tropical Sangria
2 bottles Sauvignon Blanc
1/3 C brandy
1/3 C triple sec
1/2 ripe mango, cubed
1 orange, cut into slices, then quartered
5 or 6 pineapple fresh pineapple spears, cut into bite-sized pieces
cold lemon/lime soda
Pour all ingredients except lemon/lime soda, into a large pitcher and refrigerate for several hours.
Add some ice to wine glasses, pour in wine mixture and top off with lemon/lime soda.
That's it! Really easy right?!
I really don't like most wines... but I do love sangria.
I took a little sip after mixing the fruit & wine & liquor, before I put it in the fridge.
MAJOR squinchy face!! I hoped it would get better in the fridge.
Thankfully, it really did!!
It was very fruity & tropical tasting. Perfect for a hot summer day!