Enchiladas, like quesadillas are so versatile.
You can roll up whatever fillings you want in them.
For these, I used the leftovers from my Pinto Bean & Corn Chicken Quesadillas.
First of all... if I'm using flour tortillas are they still enchiladas?
I have no idea. I usually use corn tortillas, but I had a bunch of small flour tortillas to use up. So that's what I used!
No recipe here either, just using up leftovers.
To start, pull out your leftovers.
Shredded chicken and beans, corn and green chiles.
Toss them together.
A big bowl of shredded colby & pepperjack cheese.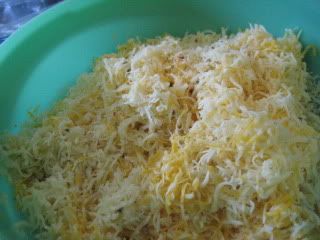 Coat the bottom of a baking dish with enchilada sauce.
Homemade
or store bought, whatever you have.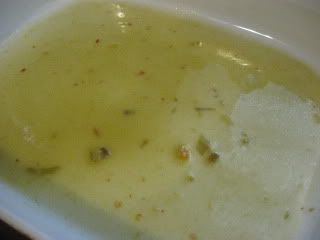 Now it's time to assemble the enchiladas.
Grab a small flour tortilla and sprinkle a little shredded cheese down the center.
Then top the cheese with the chicken mixture.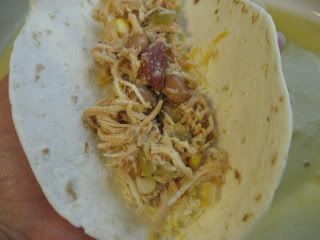 Roll it up.
Place it seam side down in the baking dish.
Do that until the pan is full or you run out of fillings.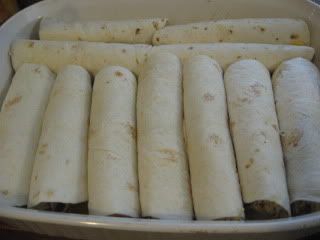 Now cover them with more enchilada sauce.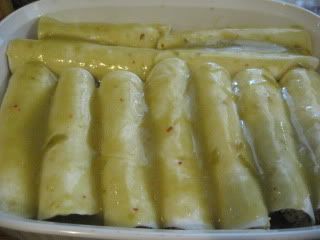 And top with more shredded cheese.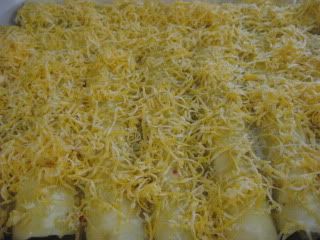 That's it.
Now bake for about 30 minutes at 350F, until cheese is all melty and everything is heated through.
Mmmm.... doesn't that look delicious??