I'm not sure how I stumbled across this recipe. I had some brussels sprouts and had planned to roast them for dinner. Then I found
this
recipe at
Poor Girl Eats Well
.
Right away I changed my mind! I had to try this!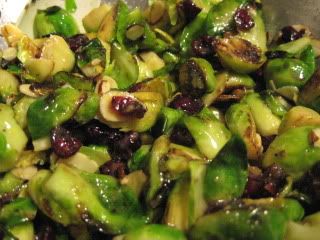 Warm Brussels Sprouts Salad with Honey Dijon Vinaigrette
1-2 lbs Brussels sprouts (about 30 sprouts or so)
1/2 c dried cranberries
1/3 c chopped almonds
1 T olive oil
1-2 cloves finely minced garlic
Salt & pepper to taste
1-2 oz. crumbled goat cheese (optional)
Honey Dijon Vinaigrette
2 T light olive oil
1 1/2 T white wine vinegar
1 T honey
1 T Dijon mustard
1/4 t granulated garlic
Pinch of salt
Dash of black pepper
Start by making the dressing. Combine all dressing ingredients in a bowl and whisk together until well combined. Set aside.
Clean and trim the brussels sprouts; then cut them into quarters. Heat the olive oil in a skillet and add the minced garlic; cook until just slightly fragrant. Add the brussels sprouts and cook over medium high heat for about 4-5 minutes or until tender crisp, season with salt & pepper about halfway through. Remove from heat.
In a large bowl, toss together the brussels sprouts, cranberries, chopped almonds and Honey Dijon Vinaigrette. Let the salad sit for a few minutes before serving. Garnish with extra chopped almonds, goat cheese if desired and freshly ground black pepper. Enjoy!
~~~~~~~~~~~~~~~~~~~
Ok.... so whisk up the delicious Honey Dijon Viniagrette!
I use the bowl I'm going to toss the salad in. Then set it aside.
Clean up the brussels sprouts and cut them into quarters.
Saute the minced garlic; then add the brussels sprouts.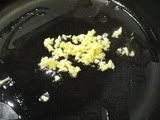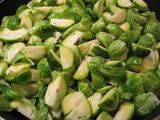 Cook until tender crisp. But sometimes I like to cook them until they're a little caramelized. It's up to you!
Then toss them with cranberries, almonds and dressing.
Let it rest for a few minutes for the flavors to mingle.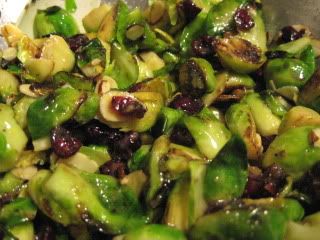 It's is an awesome lunch by itself! Or you can serve it as a side.
I've served it with some turkey kielbasa.
This is SO good!! When Jon came into the kitchen the first time I was making it, I told him what it was. He said, but there's bacon in it right? I said no, but assured him he'd like it anyway. He never really like brussels sprouts until he tried my
Balsamic Bacon Brussels Sprouts
. He thought bacon was the key to tasty Brussels Sprouts.
He LOVED this! He requests it all the time. Come to think of it, he hasn't requested the
Balsamic Bacon Brussels Sprouts
at all!
And the Honey Dijon Vinaigrette is to die for!! Not only do I use it for this salad, but I make it regularly just to use on a tossed garden salad!
Kimberly
, thanks so much for sharing your recipes!
This is for you!
Everyone be sure to browse around
Poor Girl Eats Well
for more of Kimberly's fabulous & frugal recipes! I think I'll be trying her
Caramel Macchiato Cheesecake Shots
in the near future!
I'm also submitting this recipe to
girlichef
for Two for Tuesdays!