This is a super tasty dip kinda salad. It makes a tasty side, or you can serve it kinda salsa style with tortilla chips.
I definitely prefer with tortilla chips.
The first time I saw this recipe, I was looking for something vegan to add to my menu.
This
recipe
comes from the side of the Bush's Black Beans can.
A long time ago I heard that recipes on packages are supposed to be really good. I guess the companies hope that if you enjoy the recipe, you'll keep buying their products.
There's also a cool blog dedicated to those recipes.
Cooking on the Side
Every time I see a recipe on a package, her blog pops into my head. She also writes
Panini Happy
. A whole blog about panini! *drool* Both are very cool and you should definitely take a few minutes (hours) to check them out!
Anyway!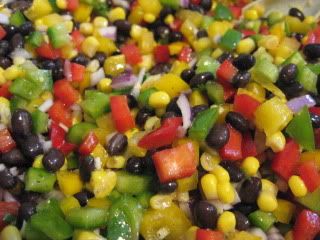 Black Bean Salad
1 red bell pepper, diced
1 green bell pepper, diced
1 yellow bell pepper, diced
1/2 cup diced red onion
1 can (15.25 ounces)corn, drained
1 clove garlic, minced
1 teaspoon cilantro
1/4 cup olive oil
4-5 tablespoons red wine vinegar
1 teaspoon lime juice
Freshly ground pepper
Salt
1 can (15 ounces) BUSH's BEST Black Beans, drained
Cut all the bell peppers and red onion into 1/4 inch dice. In a salad bowl, combine bell peppers, onion, corn kernels, garlic and cilantro and toss to mix. Add olive oil, vinegar, lime juice and salt and pepper to taste and toss again. Add BUSH'S BEST Black Beans mixing well. Serve over a bed of lettuce with tortilla chips.
~~~~~~~~~~~~~~~~~~~~
I whisk the vinegar, lime juice, olive oil and salt & pepper in a small bowl and set it aside.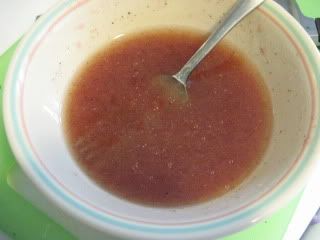 I LOVE how colorful this is!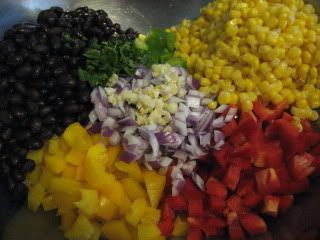 Toss it all together!
That's it!
People who claim not to like the individual ingredients kept coming back for more that last time I served this!
It makes a huge batch.
I've been trying to think of ways to cut it down. But since you use cans of things, you end up with leftovers and half peppers.
Maybe cut the recipe in half and toss all of the leftover ingredients into Tortilla Soup for girlichef's
Tortilla Soup Challenge
?
Or maybe cook up the leftovers and fold them into a cheesy quesadilla? Or wrap them with some cilantro lime brown rice for a tasty veggie burrito?
Or just have LOTS of people over to enjoy!