Quesadillas are one of my go to dinners when I need something fast.
How easy is it to fold some fillings into a tortilla with some cheese and heat it?
More often than not, when I make quesadillas, I do kind of a
Quesadilla Bar
. But I wanted to try something different.
To start, I made a different version of my
Smoky Mexican Chicken
, by just doing it in the crock pot. I needed much less liquid in the crockpot. And since the liquids don't cook down and concentrate, it turned out to be a much more mild shredded chicken. So it was even more versatile AND convenient, because I just threw everything into the crock pot and went to work.
There are no real measurements here, I was just kinda winging it. Tweak it to your family's preferences.
Pinto Bean & Corn Chicken Quesadillas
Large flour tortillas
Shredded chicken
Pinto beans, drained & rinsed (about a cup)
Corn (a big handful or about a cup)
Onion, diced (1/2 - 3/4 of a smallish onion)
Garlic, minced (a couple of cloves)
Green Chiles, diced (a couple spoonfuls)
Lime Juice (about a tablespoon)
Cumin (a big pinch)
Salt & Pepper
ColbyJack & PepperJack cheese, shredded
In a skillet saute onion & garlic until tender. Add about 1/2 to 3/4 of a can of pinto beans. Or about a cup, if you're starting with beans you cooked from dry. Add a couple big spoonfuls of diced green chiles, and a handful of corn. I used frozen corn. You can use fresh kernels, canned, whatever you have on hand. Add lime juice, cumin, salt and pepper.
Cook until heated through.
Ok filling is ready!
Cover half of a large flour tortilla with cheese.
I put colbyjack on the bottom.
Top that with shredded chicken.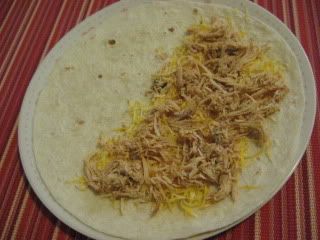 Then then bean mixture.
Top with some more cheese.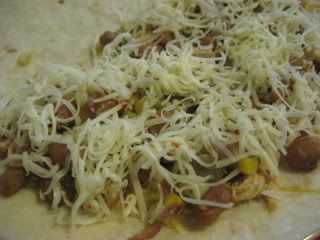 I used pepperjack this time to spice it up a little.
Now fold it in half.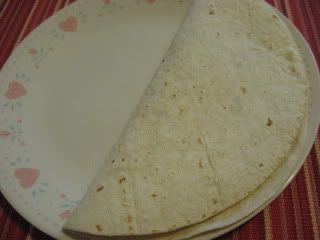 This time I cooked them in a hot, lightly oiled, cast iron skillet, instead of my Foreman Grill.
Give it a couple minutes, until it gets nice and golden, then flip it.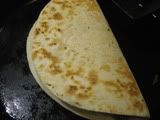 Cook on that side until it's nice and crispy and golden and you're done!
Cut it into 3 or 4 pieces.
I love them with
guacamole
and salsa.
We really liked the pintos in the quesadillas. I'll definitely be making these again!
You know what makes the PERFECT dinner?
A Quesadilla paired with Tortilla Soup!
If you're looking for a nice little collection of Tortilla Soup recipes... check out girlichef's Tortilla Soup Challenge by clicking the badge below!
Find some new Tortilla Soup recipes or add your own to her list!
I had leftovers of chicken, the bean mixture, beans, corn, and green chiles... see what I did with them tomorrow!