Last Saturday was GORGEOUS! It was sunny and warm, in the high 70s. It was definitely the first perfect grill day of the year.
To grill, we have to drag our grill in and out of the house every time. Where we live, if we left it outside, it's quite likely it would be stolen. (it's happened before)
As a result of the effort involved, I usually grill WAY too much food. And it was my plan to grill too much food this time. I figured there'd be plenty of leftovers to use during the week.
Since I knew I'd be cooking too much, I did invite another couple over. They live just up the street and when they come over, I don't feel like I'm 'entertaining', so it's really relaxed and casual. We're all just hanging out, ya know? Even though I canceled wine tasting, since Erika and Drew are in our wine tasting crew, I figured we can taste a little wine during the night. But there WOULD BE fruity rum drinks too!!
So anyway!!
I grilled too much. Which was my plan.
I LOVE
Tyler Florence's Mojo Marinade
. I put beef tenderloin steaks and chicken breast fillets in it. I meant to put some big gorgeous portabellos in the mojo marinade too and totally forgot. It was truly a meat fest.
You can check out the Mojo Marinade w/Flank Steak for Carne Asada Tacos
here
.
Ok... outside at night... on the grill w/no flash, the chicken looks decidedly green!
But it really wasn't!
I like to butterfly the breasts. I'm not sure if it's called butterflying, since I do cut them all the way through. But I love how the nice thin fillets cook up so quickly and stay moist and delicious. Maybe it's filleting? I dunno!
But on to the wine.
For those of you just joining our program, I don't like wine. I joined the
BakeSpace Wine Club
to learn more about it. I
am
learning too! I've learned that I prefer a semi-dry wine. Nothing too sweet or too dry. So far, I actually 'like' semi-dry Riesling. I would never order it in a restaurant; but would happily drink it at a friend's house. I'd probably never buy it to serve at my house, because we're not wine drinkers. I don't think any of our friends every expect to drink wine at my house, unless of course it's wine tasting night. They usually expect tequila or beer or rum! But I always pick out an Australian Chardonnay for my mom when she visits. I know she likes that. I usually try to pick something either marked 'award winning' or that has a cool animal on the label. So far she said she's liked them. For her next visit I'll ask more about what flavors she likes in her Chardonnays and try to choose appropriately. I need to put my new found knowledge to use!
Jon & I picked this one. Why? Cuz it's called Giant 47 Pound Rooster! Duh!!
Name:
HRM Rex-Goliath Giant 47 pound Rooster
Price:
$7.99
Year:
2007
PHOTO of bottle:
Short intro from the wine maker about the wine:
From the Bottle: Our Chardonnay is like enjoying a day at a tropical beach - bright and sunny, with aromas of pineapple and citrus.
Review:
Pale yellow color
Marguerite (me) ~ Kind of pineapple citrus flavor... not making me puckery... fruity... not like other Chardonnays I've tried that I cook with.
Jon - not bad, almost sour after taste... a little juicy
Ericka - tart but it's not making me hate it
Drew - nice, good wine
Would you buy again?:
Yes =)
Wine Pairing Ideas/Recipes:
This is fruitier than other Chardonnays I've tried and I'd really like to try cooking with it.
~~~~~~~~~~~~~~~~~~~~~~~~~~~~
Ericka & Drew brought this one over.
Name:
Louis Jadot
Price:
$16.00
Year:
2006
PHOTO of bottle: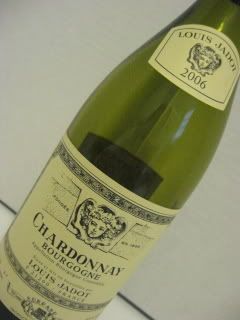 Short intro from the wine maker about the wine:
From the website: This wine is very fruity (peach, pear and grapefruit), developing white flower aromas as well a slight vanilla touch. With a lot of elegance, it is structured, pleasant and harmonious.
Bourgogne Chardonnay "Les Petites Pierres" will be perfect with "hors d'oeuvres", white meats, poultry, sea fruits, grilled fish and goat cheese. It is best served chilled (10/12°C). After several years, more sophisticated aromas will develop and it will go well with more elaborated dishes.
Review:
Marguerite (me) ~ Smells like wine... I like the other one better...
Jon ~ Not as flavorful as Giant 47 Pound Rooster
Ericka ~ looks like osmium (she uses that to fix lipids in brain tissue).... agrees not as flavorful
Drew ~ likes it better... not floral
Would you buy again?:
Probably not
Wine Pairing Ideas/Recipes:
I'd cook with it... but not for $16.99 a bottle.
So that's it! Well... so far... We'll probably try another one on Saturday night, playing
Euchre
with Jeff & Whitney... but I also want to introduce Whitney to the
Hard Arnold Palmer
!
So, have I mentioned that there are prizes involved in the BakeSpace Wine Club? That's right! I said
PRIZES
! If you get voted best reviewer of the month, not only do you get to choose the wine for next month, you get a cool prize!! How cool is that???!!!!
Still haven't joined?? Why not?? What are you waiting for???
Click the logo below to check it out!
To register for the forum section of BakeSpace click
HERE
Then you can join the Wine Club!
To register for the recipe section of BakeSpace click
HERE
.
You register separately for each section to help stamp out spam (not the tasty canned meat... the annoying interwebs stuff that you don't want to see)
Come join in the fun!!! Tell 'em Spryte sent ya!