I've been kinda MIA for a little bit here... I was fighting bronchitis & asthma... and immediately fell into a week of birthdays, doctor appointments and Easter! It took me a bit to catch my breath... but I'm back! =)
Here's a quick one for you!
Jon's Favorite Bloody Mary
2 shots of Vodka
1 small can V8
1 tsp lemon juice
1 tsp Worcestershire sauce
1/2 tsp horseradish
celery salt, to taste
black pepper, freshly ground, to taste
Tabasco, to taste (no substitutes here... must be Tabasco)
big olives
little pickles (Cornichons)
celery
onions
ice
Prepare your garnishes.
Put some ice in a pint glass.
Toss in the veggies - we only had olives & pickles
Celery salt
Add horseradish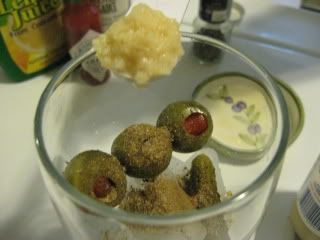 A few good shakes of Tabasco
Some lemon juice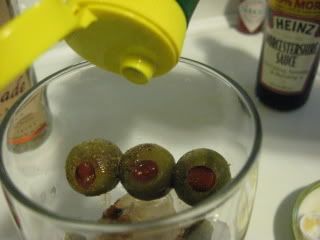 Worcestershire sauce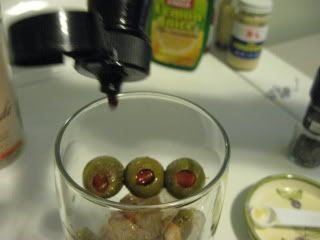 Two shots of vodka
Pour in the V8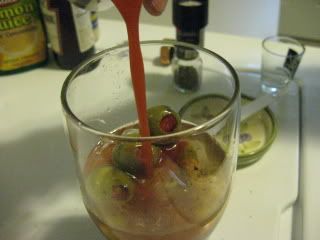 Stir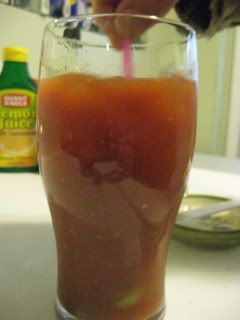 Top with lots of freshly ground black pepper.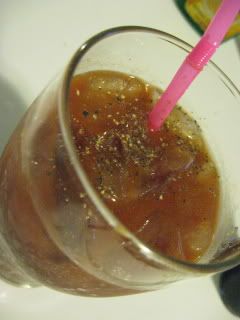 Enjoy!