Jon LOVES Deep Fried Desserts! The first one I ever made was
Deep Fried Candy Bars
. They came out great!
Last summer I think, we saw Robert Irvine make Deep Fried Peanut Butter and Jelly Sandwiches on some TV show. I looked at Jon and could tell he definitely wanted me to make him one!
Now when I deep fry stuff for dessert, Tawny and Jon try to think of things we have that I can batter and fry.
It always reminds me of the Saddlesore Galactica episode of The Simpsons when Homer says, "See Marge? I told you they could deep-fry my shirt." and Marge replies, "I didn't say
they couldn't
, I said
you shouldn't
!" That episode also has Furious D.. I love that episode!
Anyway....
I made Deep Fried Peanut Butter and Jelly for Jon. Since I was deep frying... I also made Deep Fried Oreos, Deep Fried Nutella Sandwich and I tried to Deep Fry Chocolate Covered Donuts...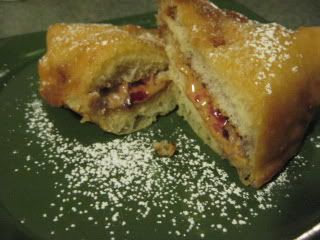 You'll need is
Sweet Sandwiches
~You're only limited by your imagination here.
Cookies
Maybe cake?
Your favorite
pancake
recipe
Oil for frying
Your favorite toppings
Peanut Butter & Jelly Sandwich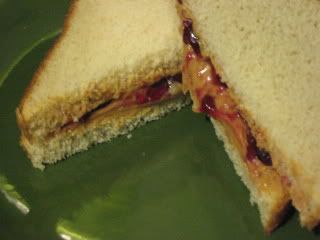 Nutella Sandwich (maybe add some sliced bananas!)
An assortment of goodies to batter & fry!
Peanut butter & jelly sandwich, Nutella sandwich, Oreos, Chocolate covered donuts, Nutty Bar
Heat oil (vegetable, canola or peanut) to 350F.
Dip your yummies into the pancake batter and coat completely.
Gently place in hot oil.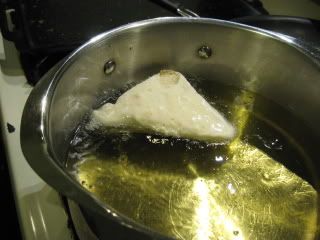 When it puffs up, flip it over.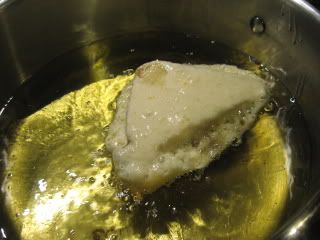 Drain on cloth or napkin covered wire rack.
Garnish with powdered sugar... cinnamon sugar... whipped cream... ice cream... sauces... fruit... whatever you like!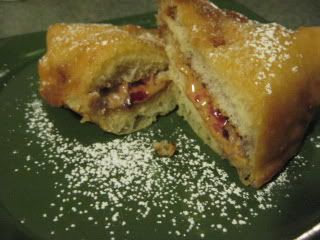 On to the next one!
Oreos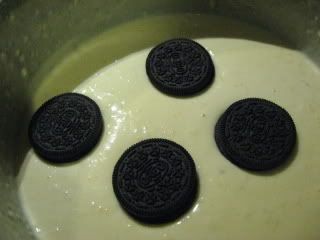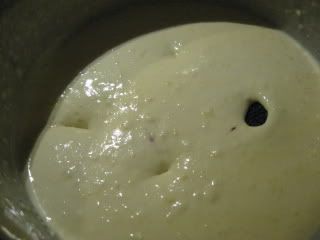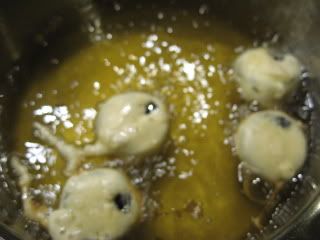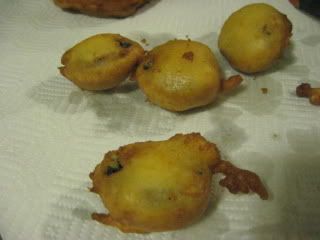 The inside gets soft and yummy!
Next I tried chocolate covered donuts. These didn't work out very well.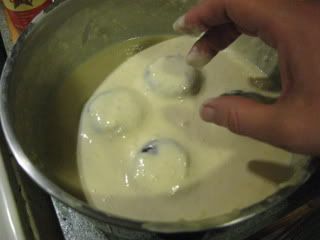 As soon as they hit the hot oil, the chocolate melted and slipped off with the pancake batter.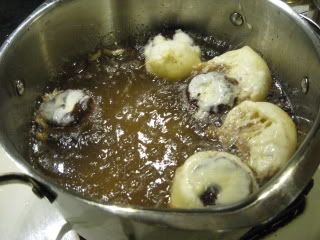 They ended up being fried donuts and slightly chocolaty fried dough.
Since they didn't work, I didn't try the Nutty Bar. It also has a thin chocolate coating and probably wouldn't have worked. The candy bars work because there is much more chocolate and they start out chilled.
I could try chilling the donuts first next time; but how much stuff do we really
need
to be able to eat deep fried??
So anyway... last, but certainly not least... Nutella sandwich.
This tasted just like a Nutella Donut!!
If you want a very naughty dessert... break out the deep fryer & the pancake batter!