Jon asked what I wanted for my birthday. I thought and thought about it, but nothing really came to mind.
There's no new (or old) kitchen gadget that I'm dying to have. (at least I can't think of one!)
Then it came to me. We often talk about home improvements... and often never get around to actually 'doing' them.
I want a new stove... but I just don't see that happening this year. Mine works fine. Even the clock that we had taped over with camouflage colored duct tape works! It's been covered for YEARS. The tape didn't look camo-y any more, so I peeled it off and was going to replace it with a nice fresh black piece of Gorilla Tape. I peeled it off... and the clock continued to flash... Jon pressed the button... it kinda looked like it was going to work. So I set the time. It's been working just fine for a week... the timer even works too!
See... 46 seconds left on something I was baking!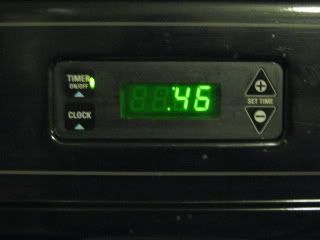 So there's even less reason to replace my 'working just fine' stove... even though I want a much bigger one, that doesn't require me to lay on the floor to broil.
Anyway... back to my birthday present. We had a crappy washing machine set-up. My washer is in the utility room (connected to the kitchen and the main entrance to our house) and drains into a big plastic, scratched, stained, old, crappy utility sink.
I was thinking that I'd like to replace it with a beautiful new stainless steel utility sink. Then I started shopping around... they cost OVER $1000!!! Yeah... I don't want one that bad.
Then I started thinking... can't we just drain the washer into an actual drain and eliminate the utility sink all together?
But even though it was old and ugly... I did use it for things other than draining the washer. I washed my huge pans in it. Jon cleans his carboys for beer brewing in it. It makes a super handy cooler for a party... just put the stopper in the drain, fill with ice and add beer.
I didn't want to lose all of that functionality.
Maybe I could change my kitchen sink? That's it. I had a 33 inch double bowl stainless steel sink. A pretty standard size I think. But I have a lot of pans that were extremely difficult to wash in the small basins.
I found a very affordable 33 inch, single basin, stainless steel sink. And it's almost 2 inches deeper than the double basin sink I had!
I told Jon that I wanted a new kitchen sink for my birthday... and that I wanted the washer to drain into a drain, so we could get rid of the eye-sore of a utility sink that greeted people as they entered our house.
He thought that I would rather have something for 'me'. But for as much time as I spend in the kitchen and utility room, this
is
for me!
I even told him that it didn't even need to be completed by my birthday (this coming Wednesday), as long as it was definitely a plan and definitely going to happen.
He said no problem!
He meant it! My new sink has been installed for over a week now! It's two inches deeper and I have a tall goose-neck faucet so there is more space to get big things under the faucet. It's a single bowl and it easily accommodates all of my biggest pans. My washer now drains into a drain. The utility sink is outside. I may make it into a planter. AND he got an under-sink filter to replace the PUR filter I had on my old faucet! (the water filter is being installed this weekend, so the PUR filter is still there)
My new sink!
It's HUGE!!
I put a pint sized mason jar in it for perspective.
Yay!! Happy Birthday to ME!
Thanks Baby!!
Jon isn't the only one I need to thank...
Heather over at
girlichef
honored me with this cool award!
FRIENDS... comes with the following description to be added & passed along: "These blogs are exceedingly charming. These kind bloggers aim to find and be friends. They are not interested in self-aggrandizement. Our hope is that when the ribbons of these prizes are cut, even more friendships are propagated." It also says : "Please give more attention to these writers. Deliver this award to eight bloggers who must choose eight more and include this cleverly-written text into the body of their award."
And without further adieu... 8 bloggers that I am certain you will love as much as I do!
Michele at
My Italian Grandmother
Nenita at
Passion in the Kitchen
Debbie at
mocha me
Bob at
Cooking Stuff
Shane at
Culinary Alchemy
Sarah at
Mom on the Run
Melissa at
Alosha's Kitchen
Dajana at
Baker's Corner... somewhere in my kitchen