When I saw
Baked Feta
over at
Kalofagas.ca
, I knew that it would definitely be on my table in the very near future!
**Mum... you'll REALLY like this and it's REALLY easy!
Peter Minakis has tons of awesome recipes on his site. I can't wait to try these two
mussels
recipes!
I made the Baked Feta last weekend and everyone really RAVED about it!
Being the kind of scatterbrained procrastinator that I am, I half glanced at the recipe before running out to the store. As a result, I came home with a bell pepper instead of a cubanelle or banana pepper and I
was
am out of chili flakes.
Baked Feta
(adapted due to negligence by Spryte!)
(and it is a very versatile recipe and easy to adapt to your tastes)
8 oz block of Feta
1 ripe tomato, very thinly sliced
bell pepper, diced or cut to very thin strips
(I think I would have preferred banana or cubanelle)
olive oil
Penzey's Greek Seasoning
(coarse salt, garlic, lemon, black pepper, Turkish oregano, marjoram)
Chili flakes
Drizzle olive oil in the bottom of a ramekin or small baking dish.
Place feta block on top of oil.
Cover feta with diced onions & peppers.
Drizzle again with olive oil.
Sprinkle on Greek Seasoning & chili flakes.
Cover baking dish with foil.
Bake 20 - 30 minutes at 375F
Serve with bread slices.
~~~~~~~~~~~~~~~~~~~~~~~~~~~~
Drizzle olive oil in the bottom of a ramekin.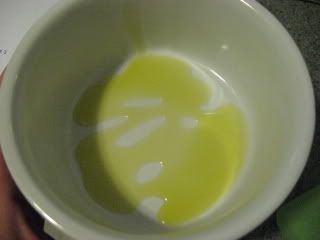 Place feta on top of olive oil.
Cover the feta with tomatoes & peppers
Drizzle with more olive oil and sprinkle with herbs & chili flakes.
Cover with foil and bake at 375F for 20 - 30 minutes.
Now you're ready to try it! I served it on baguette slices.
Mmmmm.... delicious, creamy and savory....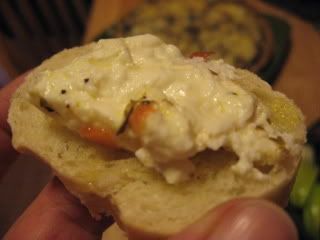 Peter also makes this on the grill in a foil packet over indirect heat. That would add another smokey delicious level of flavor. I can't wait to try it that way too!
I don't have to write 'enjoy' after this post, you won't be able help enjoying it!
Peter - this is for you!
Don't for get to check out Peter's
blog
! You'll be glad you did!!