My friend Michele from
My Italian Grandmother
had Albondigas recently and asked if I'd ever made it. I'd never even heard of it and thought I'd do a little research and give it a try... I also decided to play Feed the Peep with Jennifer over at
Savor the Thyme
!
Albondigas means meatball in Spanish... Sopa de Albondigas is Meatball Soup.
I found lots of recipes and put this together based on bunches of them.
Sopa de Albondigas
olive oil
1 medium onion, chopped
2 garlic cloves, minced
1/2 C of tomato sauce
2 quarts chicken stock
1 quart vegetable stock
2 carrots, sliced
1/2 lb of string beans, cut into 1 inch pieces
1/2 zucchini, cut into chunks
1 medium potato, peeled and chopped
1 poblano pepper, fire roasted and chopped
2 or 3 tomatoes, chopped
half a small bag of fresh baby spinach
3/4 lb lean ground beef
3/4 lb lean ground pork
1/2 C of raw white rice
1 raw egg
1/2 C of chopped fresh parsley
Epazote
Salt and pepper
Garnish:
chopped fresh cilantro
chopped avocado
baked corn tortilla strips
Heat oil in large stock pot. Add onion and garlic and saute until tender, about 5 minutes. Add tomato sauce and broths. Bring to boil and simmer.
Add carrots, potatoes and string beans. Simmer while making meatballs
Make meatballs. Mix together rice, beef, pork, parsley, salt and pepper. Add raw egg. Form into 1-inch meatballs.
Gently add meatballs to soup, a few at a time. Then add tomatoes, zucchini, spinach and poblano peppers. Cover and let simmer for 1 hour. Add some epozote and sprinkle with salt and pepper to taste. Garnish soup with chopped fresh cilantro, avocado and baked tortilla strips.
~~~~~~~~~~~~~~~~~~
This is what you need (mostly)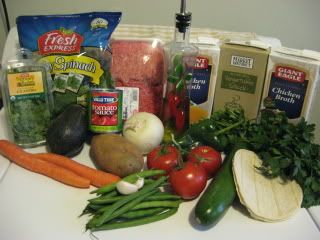 I started out by fire roasting a poblano pepper. I like to do it on the
grill
, but I wasn't feeling great yesterday, so I roasted them on the stove.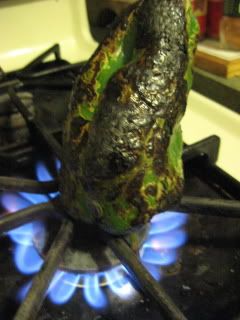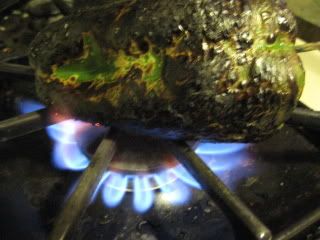 This little Peep is making sure no one opens this container until the skin is steamed off of the poblano.
And he's supervising the veggie prep!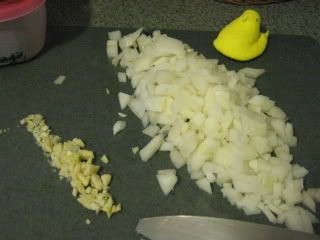 Heat some olive oil in a large soup pot.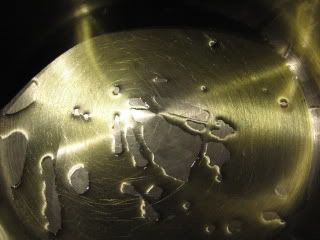 When onions are tender, add stocks & tomato sauce.
Bring to a boil and add potatoes, carrots & green beans.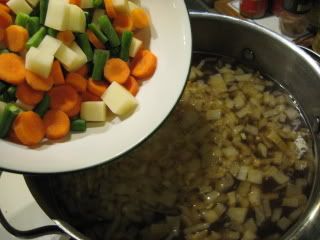 Simmer while making the meatballs.
More Peep helpers...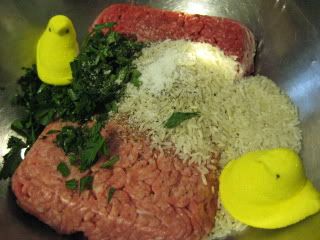 Make 1 inch meatballs.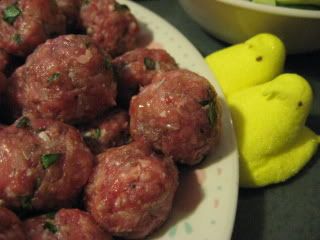 Gently add the meatballs a few at a time.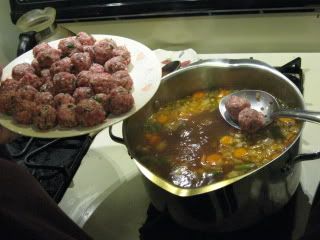 Add the tomatoes, zucchini, poblanos, spinach and epazote.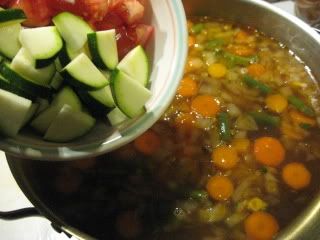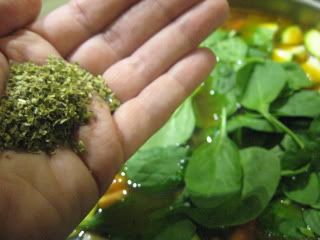 Cover and simmer 45 minutes.
To make the baked corn tortilla strips, cut a few corn tortillas into small strips.
Spread them out in a single layer on a baking sheet.
Drizzle with olive oil and a sprinkle of salt and toss to coat.
Bake at 400F for 5 minutes or until crisp.
Soup's on!
Garnish with baked tortilla strips, avocado, and cilantro.
Final quality control Peep check!
It's all good!!
Tawny, Jon and I all really enjoyed this tasty soup with lots of veggies & meatballs.
Although next time, I'd probably add some green chilies to the meatballs to spice them up a bit.
~~~~~~~~~~~~~~~~~~
It's that time of year again. I can't wait to start brightening up our little gray corner of the city.
We live in a turn of the century brick row house. We have no yard at all, just concrete. But every year I plant a pretty big container garden.
Here's our 'yard'. Just gray & concrete.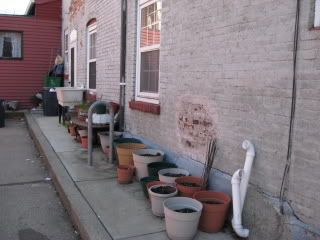 Bob is helping me get out some supplies...
That's my ugly old utility on the left. I think I'm going to cut off the legs and make some kind of wooden case for it and use it as a planter.
Sadly, the Hens & Chicks did not survive the winter this year.
But my friend Ericka brought me some last week!
They will fill this bowl in no time.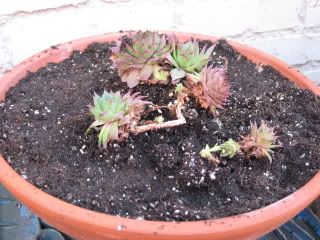 This little pot of violas is from last spring. Every time the weather warmed up over the winter these little guys bloomed. They are really filling out again.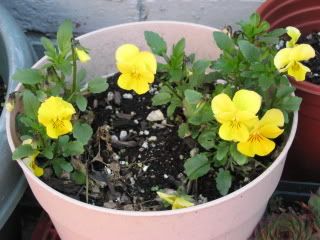 Yesterday Ericka & I headed over to a nursery she recently discovered and I picked up these to add to the yellow ones and plant in my barrel at the corner.
Bob's helping to freshen up the dirt in the barrel.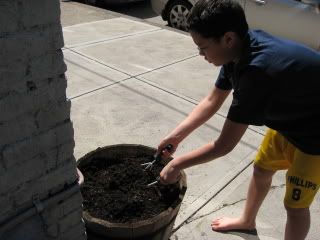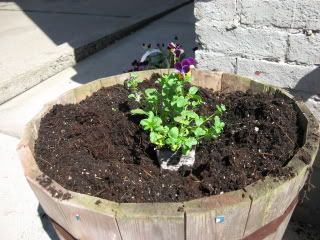 Yay! It's spring time again at Spryte's Place!