Lobster Rolls!! One of the foods I miss most from Boston. I haven't found ANYPLACE at all that makes them in Pittsburgh.
And I didn't really make Lobster
Rolls
, because they aren't in the proper bread to be a Lobster Roll.
Of course everyone knows that Lobster Rolls MUST be served in a New England Style Hot Dog Bun!
Top split and toasted on both sides.
I had to use soft dinner rolls... because you can't find New England Style Hot Dog Buns here either!
So I got it in my head that I wanted to make Lobster
(in)
Rolls.
Being land locked in Pittsburgh, means fresh seafood options are often expensive. But at this point, I didn't care. I wanted to make Lobsters Rolls and I didn't really care how much it was going to cost.
First stop
Wholey's
website. YIKES!! 1 - 1 1/2 pound lobsters $22.00 EACH!!! Maybe I'll check at the nicer Giant Eagle locations to see what they have. YAY! They just happened to be having a Live Lobster Sale!! $9.99/pound! PLUS they would steam them for free!!! Can't beat that!!
I was prepared to steam them myself. I've only done that one other time and to be honest, all the thrashing about makes me squinchy! I was wicked happy they steamed them for me!
Here they are!
Oh yeah... they will be salad!!
There aren't many ingredients in Lobster Salad.
Lobster
Mayo
Celery (diced)
Salt & Pepper
That's it!
Since I wanted this to be special, I also decided to make Shane's Homemade Mayonnaise. See his recipe over on
Culinary Alchemy
.
If you've never made Homemade Mayonnaise, I HIGHLY recommend it!
Ok... back to the Lobster Salad!
First, you need to shell the lobsters.
I have almost no experience with this. I've never ordered a whole lobster. I always eat lobster IN stuff. Stuff that someone else usually makes.
This took me quite a while. And lobsters have wicked hard pokey parts. So it was a little hurty at times!
Ok... so I have one of the lobster carry-out boxes to toss shells in, a lobster cracker, some scissors (someday I'll get some
actual
kitchen scissors), and a bowl for lobster meat.
Knuckle meat...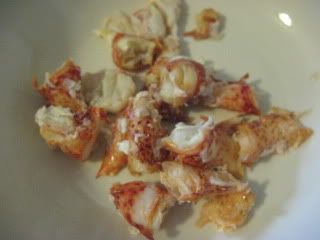 Mmmm.... my favorite!! I showed it to Jon, but he really was NOT interested. He only wants his lobster hot...
Like Homer...
Mmmmm..... lobster...
Oh, God, that's tasty! I wish Pinchy were here to enjoy this.
Oops... sorry...
Then pull off the tails...
Cut down the underside with scissors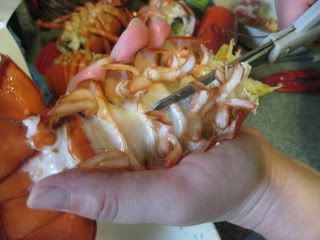 Open it up...
Yank
Slide the meat out...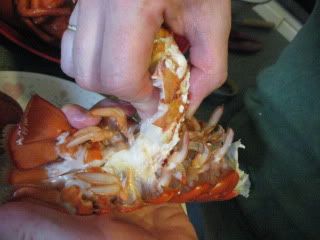 The red stuff is Coral or Lobster Roe.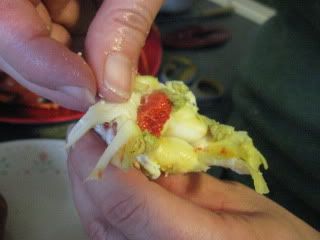 It's only red after it's cooked.
It's totally edible and really good.
I pulled it all out...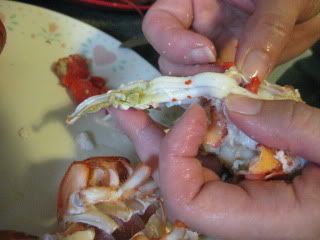 But I ended up not doing anything with it. Only for lack of having a timely plan.
Mmmm... more meat...
On to the claws!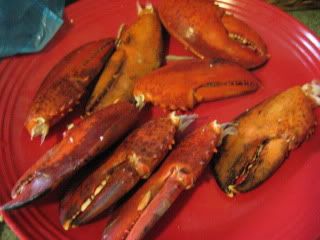 YUM!!
Look at that bowl FILLED with lobster!!
So while I was picking those apart. I was totally sucking the meat out of lobster legs and little flappy tail pieces. YUM!
When I finally got all the meat out, I could make the Lobster Salad.
Chop the lobster into bite-sized pieces...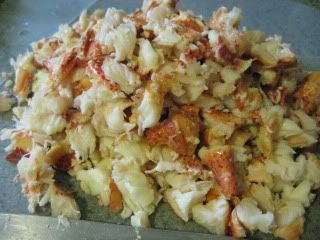 Finely chop a stalk or two of celery (depending on how much lobster you have)
Toss them together...
Add a dollop of Homemade Mayo...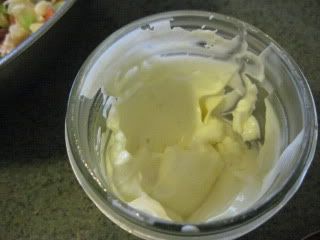 You want to add enough to just coat the pieces. It shouldn't be too wet.
Plus a little salt & pepper to taste...
Now it's ready!
I stuffed it into soft dinner rolls...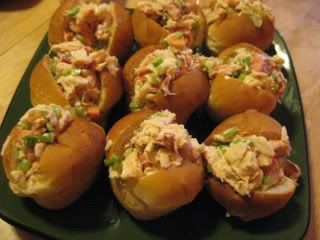 But you could put it on top of a nice bed of lettuce too. Or into a big sub roll for a giant Lobster Sub!
I have to say, I was wicked happy with these!!
Darnit now I want another one!!!
I wonder if Giant Eagle is having a sale...
UPDATE!
Hey there! It's almost a year later and guess what?!
I do have actual kitchen scissors now!
That's not the main reason for pulling up this post. Heather over at
girlichef
invited me to participate in Two for Tuesdays! Blog Hop Carnival! So I decided to channel my inner carnie and look for a post that features REAL FOOD! I didn't make the rolls for this... but I did make the mayo! For me, that's as real as it gets! Although, everytime I see another post for
Healthy Bread in Five Minutes a Day
, I get closer and closer to making my own bread!!
Anyway! This is my first submission (hopefully of many!) to Two for Tuesdays! Blog Hop Carnival!
Feel like channeling your inner carnie? Come play along!!