A couple years ago, I had a creamy polenta dish at a tapas restaurant.
It was delicious!
I had never had creamy polenta or any polenta for that matter, before that.
I tried once to make it at home after that and ended up with a sticky, gloppy, completely unappetizing mess.
So I forgot about it for awhile.
I needed a side to go with Chicken Saltimbocca. Jon suggested risotto, but I'm really just not a fan. Then I remembered that creamy polenta.
I decided to give it another shot!
I'm SO glad I did!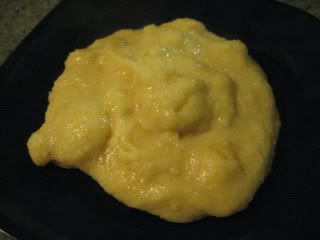 Creamy Parmesan Polenta
2 C evaporated 2% milk
2 C chicken stock
1 1/2 C coarse ground cornmeal
1 12 tsp salt
4 TBLS butter
1/2 C grated Parmesan cheese
freshly ground black pepper
In a medium saucepan, bring evaporated milk and chicken stock to a boil.
Add salt and gradually stir in cornmeal.
Reduce heat to simmer, while stirring constantly.
Polenta should be smooth and large bubbles will come to the top.
Continue stirring until very thick, but not stiff.
Remove from stove, stir in butter, Parmesan cheese and pepper.
Serve immediately.
~~~~~~~~~~~~
Stir cornmeal & salt into boiling evaporated milk & chicken stock.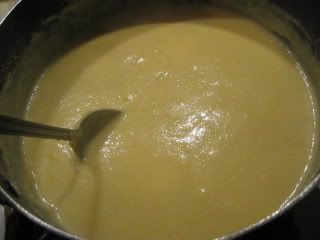 When polenta is very thick and smooth, remove pan from heat and stir in butter & Parmesan cheese.
Stir until mixed completely.
Serve immediately.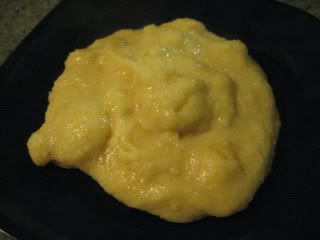 Garnish with fried sage leaves.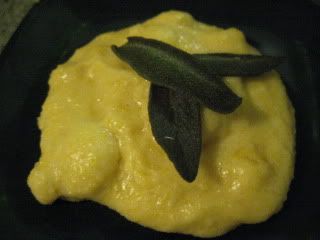 Or Mushroom Marsala Sauce... mmmmmm...
This was so creamy and delicious! The evaporated milk and stock lend a comforting rich flavor to the slightly sweet cornmeal and salty Parmesan.
This is the perfect side or Saltimbocca, Osso Bucco, or Short Ribs.
Definitely a keeper!!