Ok... so I can't seem to make fried potatoes to save my life.
My mom makes awesome fried potatoes.
She cubes raw potatoes. Shakes them in flour. Fries them up.
They end up being golden brown crispy cubes of deliciousness.
My friend Whitney (who you've met at my Wine Tasting Parties) also makes awesome fried potatoes.
She boils the potatoes, then slices them, then fries them up with butter or bacon fat.
Again, golden brown crispy deliciousness.
On very rare occasions, I have slight success with Whitney's version.
So tonight I wanted to make them. I was making one of my mom's standard dinners. Her friend used to joke with her that you could tell the day of the week by what my mom was cooking for dinner.
Ok... not a lot of variety growing up. But it never occurred to me to care. (although if I did complain about it and I probably did, I just don't remember... but I'm sure my mom will let me know when she reads this)
So, tonight's dinner, one of Mum's standards.
Ham Steak, Fried Potatoes and Peas.
I loved that!
And it was peas from a CAN. Yup. I love canned peas.
I never make them, because Jon says they're gross.
He said they aren't even green. But they are green. They're pea green. At least that's the color I think of when I think of pea green. Canned Peas.
Anyway!
I decided to make Ham, Fried Potatoes, Peas and
Balsamic Bacon Brussel Sprouts
. (I added brussel sprouts because really no one else likes canned peas)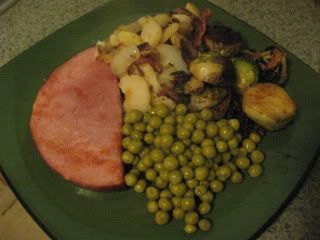 I boiled the potatoes last night and just popped them into the fridge.
Tonight, I just had to slice them and fry them.
Boiled baby potatoes.
Cut into slices and sliced an onion too.
(Obviously working in a different part of the kitchen as you can tell by the big shadow!)
Whitney often has some bacon fat left over from breakfast that she uses to fry her potatoes. So I fried up some bacon. I figure bacon would good in there in addition to cooking them in bacon fat. Sounds good right?
Fried up some bacon and set aside.
Put the potatoes & onions into the bacon fat...
just like Whitney does
.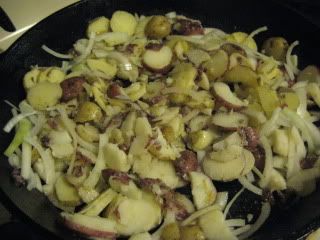 Now I want golden brown crispiness. So I try really really hard not to touch them.
They cooked for a little while.
Then I shook them.
Like my new oven mitt?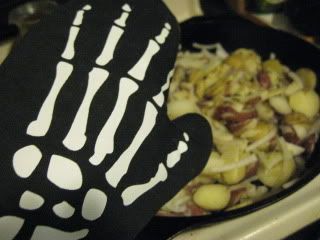 I picked that up at Sur La Table on my last trip there with Ericka (you've also met her at Wine Tasting!)
I LOVE it!!
But the potatoes... they mock me.
Look at them... starting to stick in my well seasoned cast iron skillet.
Oh well... just add bacon... that should help right?
Mmmmm.... bacon...
Not crispy... not golden brown...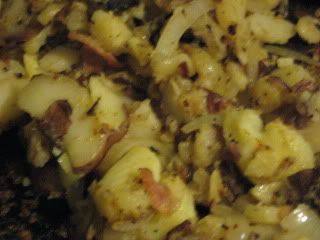 Ya know why?
The golden brown crispies are here...
Yup... on the bottom of my pan.
They tasted fine... but not crispy.
mock mock mock... damn you non-crispy fried potatoes!!!
Sigh... at least the leftovers are PERFECT for breakfast burritos!!
What's the secret?!!!