This is our third Coast to Coast Cooking from
BakeSpace
. I'd have to say, this has been my favorite so far.... Saltimbocca.
We had a lot more cooks this time and went as far away as Alaska and Italy!
I knew I wanted to make a Chicken Saltimbocca and looked at a ton of recipes online before finally settling on a Mario Batali
recipe
. I've never been a big Mario Batali fan. His show never really interested me, because he was mostly cooking things I wasn't remotely interested in cooking. But after trying this recipe, maybe I should give him another look!
I pretty much followed his recipe. I just increased the sauce by half and changed the oyster mushrooms for cremini. This reflects my changes.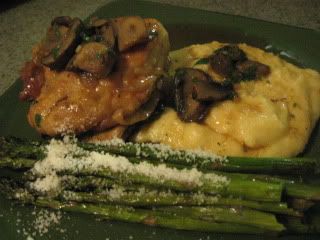 Chicken Saltimbocca with Mushroom Marsala Sauce
1 C flour
Salt and pepper
4 (8-ounce) chicken breasts
4 large slices prosciutto
4 large sage leaves, plus 20 smaller leaves
1 cup extra-virgin olive oil
4 shallots, thinly sliced
1/2 pound cremini mushrooms, sliced into 1/4-inch pieces
1 1/2 cup dry Marsala wine
3/4 cup chicken stock
2 tablespoons butter
1 bunch Italian parsley, chopped to yield 1/4 cup
Pound chicken breast to 1/4 inch thickness. I'm really bad at this, so I just fillet them to that size. Season chicken with salt & pepper. Place one slice of prosciutto and one large sage leaf on each chicken breast. Then fold each chicken breast in half, like you're closing a book.
Dredge each folded chicken breast in flour and set aside.
In a small heavy pan, heat olive oil to 350F. Fry remaining sage leaves in oil for about 30 seconds. They cook VERY quickly so have a slotted spoon or spider ready. Don't walk away! Drain on a paper towel and season with a sprinkle of salt. Set aside.
Scoop out a few tablespoons of the oil that you used to fried the sage leaves and put it into a large hot skillet. Saute the folded, floured chicken breasts until golden on both sides. Add shallots and mushrooms and cook for about 5 minutes. Add Marsala wine and chicken stock. Simmer until liquid has reduced by half or three quarters. Stir in butter. Add parsley. Garnish with fried sage leaves.
~~~~~~~~~~~~~~~~~~~~~~
Ok, I started with frying the sage leaves. At first I wasn't going to. I was just going to skip them completely. Mario's recipe called for 2 cups of olive oil. HELLO!! That's a lot of olive oil!! Then I decided to use a little pan and half the oil.
I'm really glad I didn't skip this step.
This was fun. Sage leaves are kinda thick and furry, and lots of them are rolled in on themselves. As soon as they hit the oil, they totally flatten out.
They cook wicked quick and turn into the most delicious little chips!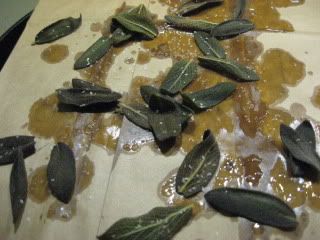 Most of these got eaten prior to garnish! I did use some to garnish some yummy
Creamy Parmesan Polenta
.
So... on to the chicken.
I'm really bad at pounding meat flat. I usually just opt to slice it really thin. Which only makes it thin, it doesn't make increase the surface area. But it worked.
Add a sage leaf to each breast. (next time I'd add more sage)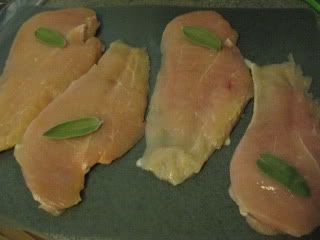 And prosciutto (I used 8 very thin slices for 4 breasts)
Fold in half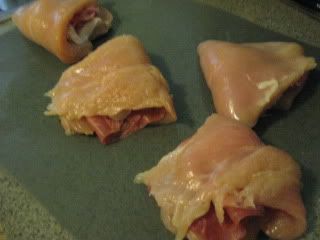 Dredge in flour
Mario's recipe called for additional olive oil to saute the chicken. But I decided to use the oil that I fried the sage in. I figured it had to pick up some yummy sage flavor.
Saute chicken breasts until browned on both sides.
Mmmm... don't they look beautiful??
Add the shrooms and shallots and cook for about 5 minutes.
One of my chicken breasts was considerably thicker than the others, so I covered it with a mini skilled to give it a little extra heat. I wanted to be sure it was cooked through.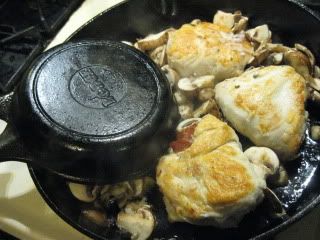 So cook about 5 minutes until mushrooms have sweated.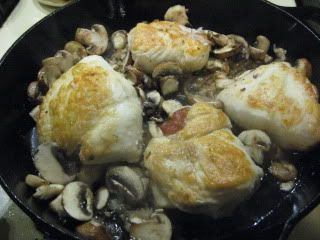 Add Marsala wine...
I used a dry
Cantine Florio Marsala
... It was around $11
Last time I made something with Marsala, Jon said he didn't really like it. I knew I had probably used a sweet Marsala last time, so I picked dry this time. Plus this wine was rated at 88 points. (I guess that's supposed to be pretty good!)
Anyway... add Marsala & chicken stock and simmer until liquid has reduced by half (or 2/3rds)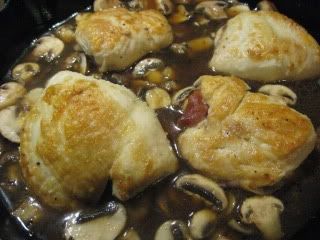 I kept ladling this intoxicating broth over the chicken while it simmered.
When the liquid is reduced, it's ready to serve.
Isn't that gorgeous???
I served it with
Creamy Parmesan Polenta
& Roasted Asparagus with Parmesan.
The Mushroom Marsala Sauce was TO DIE FOR on the
Creamy Parmesan Polenta
.
The whole dinner was fabulous!
Yup... that's where I licked the plate. I HAD to!
This recipe is DEFINITELY a keeper!
Mario Batali, I'm sorry for doubting you!
But this wouldn't be Coast to Coast Cooking at BakeSpace if I didn't share some recipes from my fellow BakeSpacers with you, right?
So, this time we'll be boarding the BakeSpace Train and heading out to Burbank, California to check out Danielle's Saltimbocca. All Aboard!!
Wow!! Doesn't that look great?!
You can see Dani's recipe
HERE
at Cooking for My Peace of Mind.
Please have your tickets ready... we're heading out to Southwest Ohio to check out Sheryle's Chicken Saltimbocca with Lemon Sauce.
Yum... that looks so good!!
You can see Sheryle's recipe
HERE
at Cookie Baker's Corner. Looks like she's got a lot more than cookies baking over there!
Next stop... Indianapolis, Indiana for DD's Traditional Veal Saltimbocca with a Wine Reduction Sauce.
Mouthwatering!
You can see DD's recipe
HERE
at DDPie's Slice.
Our next stop is a bit further, you can relax a while in the
Club Car
! We're on our way to Mound, MN for Cathy's Chicken Saltimbocca with Creamy Mushroom Cavatappi.
Mmmmm... pass me a fork!
You can see Cathy's recipe
HERE
at The Dutch Baker's Daughter.
You have plenty of time to head to the Sleeper Car for a nap, because we're heading all the way back to San Diego, California for Shane's Saltimbocca al Bisonte! Bisonte is Bison! YUM!
Shane will usually give us something a little more interesting and his Bison didn't disappoint!
Check out Shane's recipe
HERE
at Culinary Alchemy.
Now be sure to have your cameras ready for this leg of the trip because we're heading out to Seward, Alaska to check out Moni's Pork Saltimbocca over Grilled Polenta.
Mmmm.. pork is my FAVORITE!
Check out Moni's recipe
HERE
at Alaskan Dermish in the Kitch.
We've chartered a private jet for our next stop, which is Modena, Italy for Dajana's Veal Saltimbocca all'Ortolana
Delectable!
You can see Dajana's recipe
HERE
at Baker's Corner... Somewhere in my Kitchen.
Seats & Tray Tables in their upright positions as we take off for Morris Plains, NJ for Michele's Chicken Saltimbocca Pasta Toss.
That looks great right? But don't stop there!! Chicken Saltimbocca is one of Michele's signature dishes.
You can see Michele's Chicken Saltimbocca Pasta Toss
HERE
and her Chicken Saltimbocca
HERE
at My Italian Grandmother.
All Aboard! Back on our BakeSpace Train we're heading back to Indianapolis, Indiana for Pamela's Slim Saltimbocca.
YUM! Doesn't look slim to me!
Check out Pamela's recipe
HERE
at Pamela's Palace2.
And all the way back to the west coast to Banning, California for Matt's Chicken Saltimbocca - Reconstructed.
*DROOL*
And you can see Matt's recipe
HERE
at The Outlaw Gourmand.
Now we have a very cool Coast to Coast Cooking Map!
Click the map to check it out!
Why aren't you cooking with us yet?
Check out the Coast to Coast Cooking threads at
BakeSpace
!