I'm a member of the
Wine Club
on
BakeSpace
. I don't like really like wine. I joined the wine club to gain a bit of knowledge about wine and maybe stumble across something I do like. I like sangria and that's just a baby step away from liking wine right?
The first month (November) was Malbec. (yeah... I just realized this would be a cool place to put the wine tasting. Maybe you'd like to join too? Follow the links and check it out! The more the merrier!!
On to the first review!!
~~~~~~~~~~~~~~~~~~~~~~~~~~~~~~~~~~~~~~~~~~~~~~~
Ok..... we invited Ericka & Drew, our wine drinking friends and included the Quara from last week... so I'm adding it to this review, since they tried it for the first time Friday night. For cheeses we had Dutch DaVinci, Smoked Gouda, Amish Blue with baguette slices. There was a summer sausage & pepperoni sticks, red grapes, pomegranate, red pepper hummus & pita chips, sesame bread sticks, Ericka's homemade green tomato preserves, dark chocolate, stone ground mustard, French gherkins, and garlic herb dipping oil.
Name:
QUARA
Price:
$8.99
Year:
2007
PHOTO of bottle:
Short intro from the wine maker about the wine:
Deep purple in color with rich berry and plum flavors. Good structure, balanced acidity and a long velvety finish define it's character.
Review:
Jon and I started this week earlier by ourselves and this was our review:
Well... I picked this bottle because I liked the label. That's pretty much all I have to go on. So Jon and I tried it at room temp. First we smelled it. Well... it just smells like wine. I'm not being a smart a$$ this time... that's really all we can get out of it. At first it just tasted like wine. We had it with pizza... red w/sausage & pepperoni, white w/garlic, spinach & feta, and hot wings. Still really couldn't pick anything out. If sipping immediately after a hot wing bite, it did taste a little sweeter and we could catch a hint of berry flavor. My glass has been sitting out for about an hour now and I can get a bit of plum scent and a bit of berry & plum flavor.
Ok... reviewing our notes... there isn't much to add about this wine. It has a strong alcohol taste...
it's ummm... thicker... when you swirl it, it sticks to the glass more.
Ericka: full bodied
Ok... like I said... not much more about this one.... on to the next!
Would you buy again?:
Sure if I needed some red wine for cooking... but this wine has not converted me.
~~~~~~~~~~
Funky Llama
Price:
$6.99
Year:
2007
PHOTO of bottle: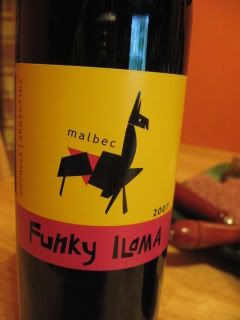 Short intro from the wine maker about the wine:
The Llama is an icon of the high Andes, roaming the snow-covered peaks between the pampas and the sky. Grown at 4000ft in the shadow of these great mountains, our wines are a clear expression of the purity of our land: Bright, Fresh & Flavorful.
**nothing about how it should taste, smell or look!** I might need to rethink picking by the labels I like!
Review:
Color - dark red not purply
smells like berries
WAY mellower than the Quara
Can't really pick out any flavors (even though it smells like berries)
Not as many tannins
Drier than Quara
Drew: Good table wine
Spryte: I could drink this if there's nothing else to drink, including water
~~~~~~~~~~
And the next Drew picked this out:
Bodega - Septima
Price:
$11.99
Year:
2007
PHOTO of bottle:


Short intro from the wine maker about the wine:
Tasting Notes: Dark red color with violet reflections. Intense aroma of sweet fruits such as plums, blackberries and quince preserve with hints of herbs and green pasture. Pleasant on the palate with soft tannins and toasts, oak and vanilla nuances. Good balance and persistence.
Aging: The wine ages in French and American oak casks where it will acquire the aroma of the wood, which together with it's own will create a more harmonic, complex and expressive wine. Six months in oak casks and six months in the bottle.
Review:
Deep purple red color
Intense mold smell but not moldy... oak??
Almost bleu cheese smell (the blue cheese was not close by)
spicy smell
Ericka: reminds me of bourbon... it's the oak!!!
Spryte: kinda pickles my tongue
Tried with dark chocolate... NO yuck for me!! YES YUM for Ericka!!
~~~~~~~~~~
Order of preference from best to least favorite:
Ericka: Septima, Quara, Funky Llama
Drew: Sepitma, Funky Llama, Quara
Jon: Funky Llama, Quara, Septima
Marguerite (aka Spryte): Funky Llama, Septima, Quara
Ericka: I think I'm not a malbec fan.
The Funkly Llama was nice mixed with 7up over ice - totally drinkable then!! =)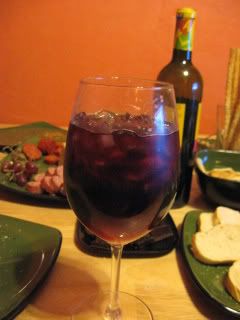 Check out the Wine Club on BakeSpace!!