I'm finally getting caught up and can blog about some of the cooking that's been going on since Thanksgiving.
This is my nephew with his beautiful girlfriend Casandra (who I consider my niece)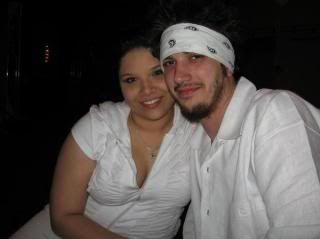 This Thanksgiving, she made her first cheesecake using her mom's recipe.
Casandra's Mum's Cheesecake
5 pkgs cream cheese
5 eggs
2 yolks
1 C sugar
1/4 C heavy cream
1 tsp vanilla
1 tsp lemon extract
1 TBLS flour
Crust:
2 pkgs graham crackers
1/2 - 3/4 C sugar
1 stick margarine
Preheat oven to 450F
Cream 1 egg & 1 cream cheese together at a time, until all are blended.
Then add 2 yolks and beat well.
Add sugar, heavy cream, vanilla, lemon and flour and beat well.
Crush graham crackers, mix with sugar & melted margarine... press into bottom of spring form pan.
Pour cheese mixture into crust.
Bake in preheated oven 10 minutes
Do not open oven.
Turn oven temp down to 200F and bake 1 hour.
Turn off oven... leave cheesecake in oven 3 hours.
Cool completely and top with your favorite fruit.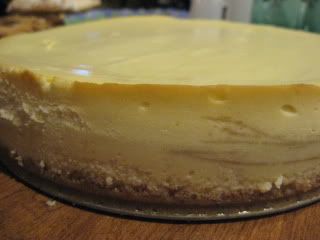 This was soooo good!!