So the 4th of July weekend sangria for the Summer of Sangria started out to be a Limey Citrus Sangria. At least that's what I thought when I was putting it together.
First, I realized that I have a cabinet full of wine! Jon and I don't drink wine, but when people visit, they often bring some along. Since I typically have cocktails for the evening already planned, it usually ends up in the cabinet. There are also some leftover from previous wine-tastings in the cabinet.
So I started there. I wanted to use up the wine I have, instead of shopping for more wine. Makes sense right?
From little under-appreciated wine supply I selected a big bottle of Barefoot Moscato. That was definitely a leftover from a Moscato wine tasting.
My original train of thought was since moscato is sweet, I'll have to tart it up a bit. And I LOVE lime, so I figured I'd go citrus, heavy on the lime. I couldn't wait to try it!
I snuck a taste just before I put it into the fridge and thought it was great! Typically, that taste is usually way too winey for me. But not this time, limey & tart... but it didn't stay that way!
Limey Citrus Sangria
Refreshing Grapefruit Sangria
1.5 liter Barefoot Moscato
1 C Key Lime Rum
1 12oz can Limeade concentrate, thawed
1/2 medium pink grapefruit, sliced, then quartered
1 orange, sliced, then quartered
1 lemon, sliced, then quartered
2 limes, sliced, then quartered
Combine all ingredients in a pitcher and refrigerate several hours to overnight.
Pour over ice and enjoy!
Sounds pretty limey right?
I'll tell ya what, if you invite grapefruit, be prepared to step aside, because grapefruit is definitely the life of the party!
It went into the fridge limey, but those juicy pink grapefruit quarter slices really took over.
Also, I had planned to top off the glasses with 7up, but it was already such a light sangria, that I ended up just pouring it over ice.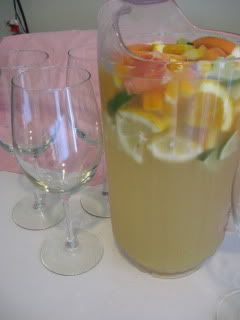 The tart grapefruit flavor was a total surprise and it was so refreshing on a really hot 4th of July!
This is definitely a keeper!! But now I have to find that Limey Citrus Sangria I was trying to create. I know what I'll be doing this weekend!
Oh yeah... I totally forgot!! I never told you how the Summer of Sangria came about!
The
BakeSpace Wine Club
of course!!
The Wine Club had slowed down a bit, but DD kick started it and dubbed June & July Sangria!
I decided to extend that and make it a Summer of Sangria! Starting out with my Memorial Day
Tropical Sangria
, since Memorial Day is really the unofficial first day of Summer right? And ending with Labor Day weekend!
Check out all of the other Sangria recipes at the
BakeSpace Wine Club
Sangria section... and keep checking back all month!
So stay tuned! I have a Limey Citrus Sangria to concoct and a cabinet full of wine that needs to get used up!