Grill season is in full swing. What's your favorite thing to grill?
I can never choose. Anytime I fire up the coals, the kids usually want burgers & dogs. But I usually want to grill some chicken or steak or veggies or pork or shrimp... See my problem? I can't choose!! So typically, the minimum that ends up on my grill is burgers & dogs, plus at least one other protein.
One Jon's often requested grilled foods is Brats.
I didn't grow up eating these and honestly, I'm not a big fan. I'm not really sure how or why I started making them like this.
But Jon & our friends seem to really like them!
Brats in Beer with Sauerkraut
Brats
Sauerkraut, mostly drained
Beer
Onion, sliced
salt & pepper
Sausage Rolls (nice ones!)
Mustard (the good stuff!!)
Mayo (if you like)
Make a bed of sauerkraut in the bottom of a grill-safe pan.
Top with some sliced onions, then brats.
Top brats with more sauerkraut & sliced onions.
Sprinkle with a little salt & pepper.
Cover with beer.
Let that rest in the fridge for awhile (until the coals are ready)
Put the pan on the grill. If the beer is boiling too much... move it to a cooler part of the grill, so it doesn't totally boil off. Simmer for about 30 minutes. Pull the brats out of the sauerkraut and place them on the grill to get some nice grill marks on them. Serve them in a sausage roll that has really good mustard and mayo in it... add some of the sauerkraut & onions and enjoy!
I like to use little foil loaf pans for this. They each hold two brats plus kraut nicely.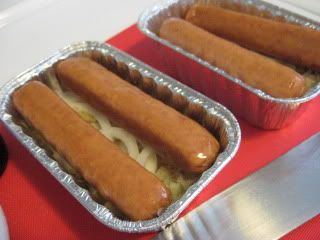 Ok... looks like I added the beer before topping with kraut... but in hindsight... adding the beer last would be better!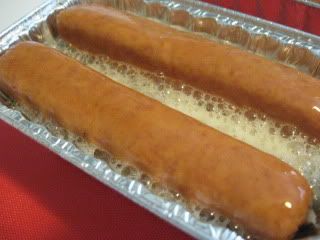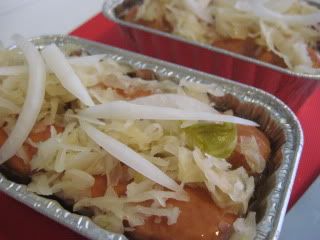 Now to get the coals ready.
That's Jon's job. I hate to do it and I'm not very good at it. It takes me forever!
Coals are ready... on to the grill they go!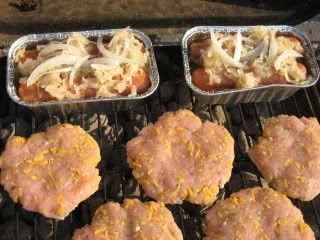 They are sharing the grill with some Ranch Turkey Burgers.
Steamy...
Ok... ready for some grill marks.
I moved them to the other grill... because that's where I had room!
One opened up a bit...
Time to get the sausage rolls ready.
Jon prefers Mr. Mustard for his brats... and he like mayo too.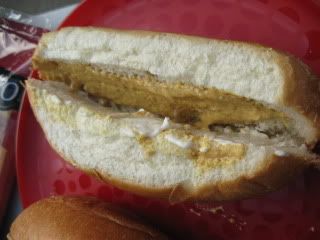 That's it! Ready to eat!
That probably would have looked a little better cut in half! But I assure you... if you love brats... you'll love them like this!