Tawny went off to college a few months ago. One thing I've noticed, is that she hates to hear when I'm making her favorite foods when she's not home.
She is learning to use her little dorm-sized microwave for more than just heating stuff up. Which is pretty much all we use it for at the house. But she still misses some of her favorite foods.
I was recently making an
Apple Crisp
and thought that Tawny would be bummed she'd be missing out.
Then I wondered if it could be made in the microwave, so she wouldn't have to miss out!
So I consulted my friend the internet. There were a lot of recipes... I decided the closest recipe to what I was looking for was
this
one from food.com, formerly know as RecipeZaar. I did change it a little, because I can't imagine apple crisp that doesn't have spiced apples in it!
Microwave Apple Crisp for One
1 apple, peeled and thinly sliced
2 TBLS brown sugar
2 TBLS quick-cooking oats
1 TBLS flour
1/8 tsp cinnamon
1 TBLS butter, melted
1 TBLS cinnamon/sugar mix (like you'd use for cinnamon toast)
Place thinly sliced apple in a 1.5 - 2 cup sized ramekin. Toss with cinnamon/sugar mix. My mix usually has a little nutmeg in it too. Combine remaining dry ingredients in a separate bowl, until well mix. Stir in melted butter and pour over spiced apples.
Cook in microwave on high 2 - 3 minutes, or until apples are tender. Let it rest for a few minutes and the topping will get crispy.
My pics have double apples, because I like a mix of apples in my baked apple desserts and I was also trying another microwave single serve apple crisp recipe at the same time. The other was a dismal failure that I won't waste your time with.
MacIntosh & JonaGold Apples
I think it's a JonaGold. I always use MacIntosh, but I always change up it's companion/s.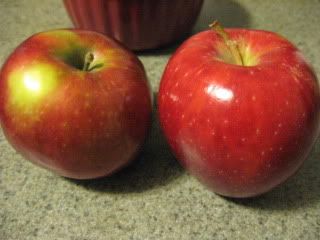 Peel, cut & toss with cinnamon/sugar
Mix remaining dry ingredients.
Stir melted butter into topping mix.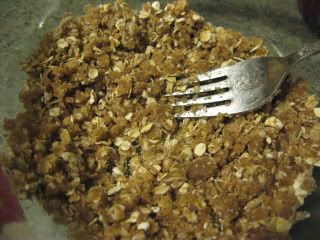 Pour over apples in ramekin.
Microwave on high for 2 - 3 minutes, or until apples are tender.
This was so good!!! Not
quite
as good as
Mum's Apple Crisp
, but definitely a worthy substitute.
You don't have to be a college student, longing for home cooking to enjoy this! It's perfect if you just want a little something. It's made from stuff I think most people would usually have on hand and it only takes about 5 minutes to make!
Want to make it a little extra special? Add some whipped cream or ice cream!
It's just not fall without Apple Crisp!