I LOVE Miso Soup! It's total comfort food for me. One sip and my eyes close, my lips curl into a smile, I say, "mmmmmmmm" and all the stress of the day melts away.
Miso Soup is also super insanely easy to make!!
This recipe is slightly adapted from Michelle Chen's
recipe
on allrecipes.com.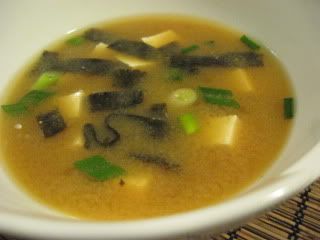 Miso Soup
2 tsp dashi granules
4 C water
3 TBLS miso paste
1 (8 ounce) package firm tofu, diced
1 sheet of nori (dried seaweed), cut into strips
2 green onions, sliced diagonally into 1/2 inch pieces
additional water to hydrate nori
In a small bowl combine nori strips with enough water to cover them. When they are re-hydrated, drain off excess water.
Meanwhile, in a medium saucepan over medium-high heat, combine dashi granules and water; bring to a boil. Reduce heat to medium, and whisk in the miso paste. Stir in tofu and dashi strips. Add green onions to the soup. Simmer gently for 2 to 3 minutes before serving.
This is what you need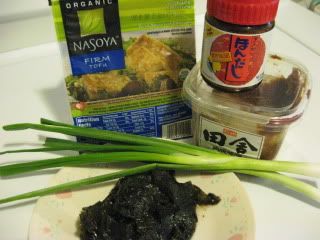 I cut a sheet of nori into strips and just put it into some water to rehydrate it. I didn't want it to soak up all of the broth of that soup by placing it in still dry.
A quart of water & dashi granules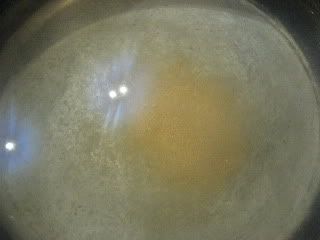 3 tablespoons of miso paste
You can get this in the refrigerator section in your Asian market. It keeps forever in the fridge!
Whisk the miso paste into the dashi broth and bring to a boil.
Add tofu, green onions and seaweed and simmer a few more minutes.
It's ready to enjoy!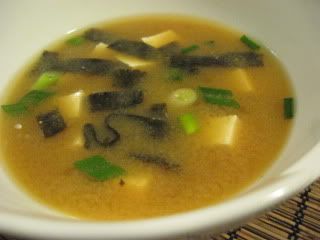 This would have also been great with a very thinly sliced mushroom or two!
Comfort food that only takes a few minutes!
What are your favorite comfort foods?