I had this the first time at my friend Whitney's house. For my long time readers, you might remember her from my wine tasting parties last year.
I instantly LOVED it!
She often includes it if we're going to dinner at her house, because she knows we all love it. When we plan a weekend's worth of meals when our families play together at her lake cottages, I always suggest she make that.
It's so yummy!
Recently I attended at potluck meeting at Bob's school. His section of the alphabet had to bring either a side dish or salad. I instantly thought of Whitney's Broccoli Salad.
She'd told me what was in it, but I didn't have the actual recipe.
Being the procrastinator that I am, I waited until the very last minute. So I looked it up online. I've heard people mention how much they love Broccoli Salad, so I figured the recipe would be easy to find. And it was.
But, being Whitney, she always puts her own special twist on everything.
All the recipes I found for this salad called for raisins. But Whitney uses
craisins
! I don't have the slightest desire to even try it with raisins, because craisins are just perfect in it!
These quantities are approximate.
Whitney's Broccoli Salad
2 bunches of broccoli, florets
1/2 C craisins
1/2 C bacon, cooked & crumbled
1/4 C red onion, diced
1 C cheddar cheese, shredded
1 C cole slaw dressing
Toss all ingredients except dressing until well mixed. The toss with dressing until it's evenly coated.
This filled a 13 x 9 pan.
Chop the broccoli.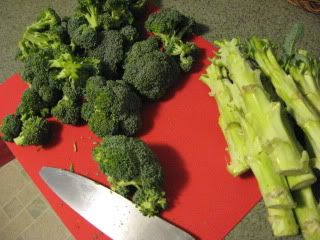 What to do with these?
Makes me kinda wish I had a bunny.
They're great for
soup
.
Or roasted... or sliced in stir fry... or grated in slaw or salad...
LOTS of stuff! Don't let all of those vitamins & fiber end up in your compost pile!
The Broccoli is ready!
Toss in Diced Onions.
Craisins
(Whitney's tangy delicious twist!)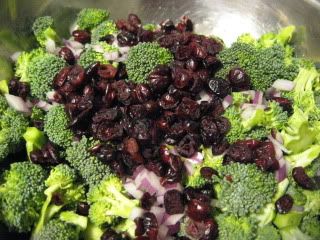 Bacon
Cheese
Toss until well mixed.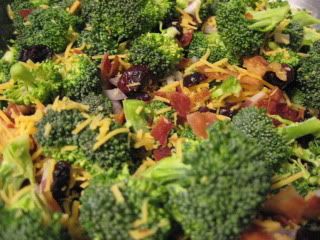 Add the Cole Slaw Dressing.
I used
T. Marzetti Slaw Dressing
. It's wicked good and I had to make this right after work, wicked fast, to bring to the pot luck. But you could totally make your own dressing. (and I'm sure it would be almost just as fast... but this was WAY easier for me!)
Toss to coat!
That's it! How easy is that?
Lots of you probably already know, since this is a popular salad.
But I urge you to try it with CRAISINS next time you make it!
You'll never go back to raisins!
Thanks Whitney! This is for you!!