I had high hopes for this Berry Sangria. But it was a miserable FAIL!
While up in Pymatuning, Whitney and I snuck off to
Wilhelm Winery
for a little wine tasting. Whitney had some of their Edelweiss at
The Naked Grape
and really wanted to pick up some more. She also grabbed a bottle of their Fredonia. I tried a Riesling that was ok and also their Blueberry and Blackberry wines.
I decided that Blackberry would make a great Berry Sangria. The fruit wines only come in the small bottles, so I bought two.
Some gorgeous berries...
Some Brandy & Blackberry Wine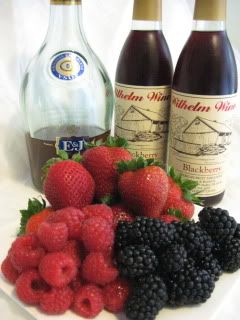 I didn't have any clear soda... but I did have some cold Prosecco...
Bubbly and delicious... should be great right?
O.M.G. YUCK!!!!
I really don't know what went wrong with it. The ingredients were all tasty on their own, but combined... total YUCK.
We couldn't even choke it down... it got poured into the sink... all the beautiful fruit wasted.
Oh well... can't win 'em all!
Check
HERE
for some awesome Sangria Recipes!