Ok, this is kind of a cheater sangria, since it's already sangria ready to drink from the bottle.
I started with a bottle of
Narcisi
Sangria.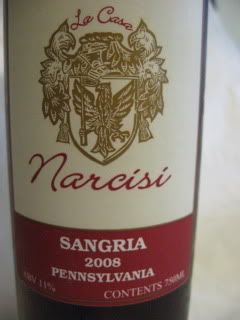 I found that in my wine cabinet. My mom bought it for me when we went out to
Narcisi Winery
for a little wine tasting.
I added some Brandy & Fruit.
A couple of nectarines, some raspberries, an orange and an apple.
(I LOVE nectarines!)
Mix it all up and let it rest overnight in the fridge.
Add some nice cold gingerale... and it's cocktail time!
The Narcisi Sangria is really delicious right out of the bottle... but if you can add more spirits & fruit, why not right? Cheers!