So last Friday I opened my email and the Daily Dish email from
allrecipes.com
was Jalapeno Poppers. Nice! I'll check it out. I only actually open a handful of those Daily Dish emails. If the dish doesn't seem appealing, I delete it, unopened. Maybe I lose out on some winners that way. But I get a lot of daily recipes, so I pretty much only open the ones that instantly seem interesting. (I
do
have a TON of appealing Martha Stewart Cookie of the Day emails saved!)
So last Friday was
Jalapeno Poppers I
!
That got an instant open. 4.5 Stars & 238 Reviews! Ohhhh and they're baked!! This is looking good! After reading all of the reviews, with everyone's changes & comments, I decided I would definitely be making these for the Steelers game!
This reflects my version of
Jalapeno Poppers I
Baked Jalapeno Poppers
2/3 of 8 oz package cream cheese,softened
1/3 C sharp cheddar cheese, shredded
3/4 C pepper-jack cheese, shredded
1/4 cup mayonnaise
1 TBLS Chipotle Tabasco
12 fresh jalapeno peppers, halved lengthwise and seeded
1 egg, beaten
splash of water
1 1/2 cups finely crushed corn flake cereal
1 - 2 tsp
Penzey's Arizona Dreaming Seasoning
Olive Oil mist
Cut & seed Jalapenos; place them on a parchment paper lined baking sheet and bake 15 minutes at 325F. This is just to take the crunch off them. Allow to cool to room temperature.
While they're cooling, combine cheeses, mayo & Chipotle Tabasco.
Crush cornflakes. I did this in my KitchenAid food processor until I had fine crumbs. Mix Arizona Dreaming Seasoning with cornflakes.
Fill cooled jalapenos with cheese mixture. Whisk egg w/water and brush the tops off the filled peppers. Sprinkle seasoned cornflake crumbs over each pepper. Lightly spray peppers with olive oil.
Bake at 325F for about 30 minutes. Serve plain or with dipping sauces of your choice!
~~~~~~~~~~~~~~~~~~~~~~
Slice jalapenos lengthwise & seed.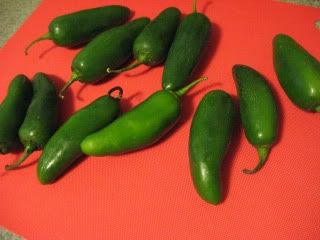 Be sure to wear gloves for this part. You'd be surprised at how hot jalapenos can be, especially if you touch your eyes or some more delicate areas!
Lots of the reviews said that the peppers were a little too crunchy when prepared according to the original recipe and some people blanched them to get around that. For whatever reason, that just felt weird to me, so gave them a little pre-bake.
Mix up the cheeses with mayo & Chipotle Tabasco.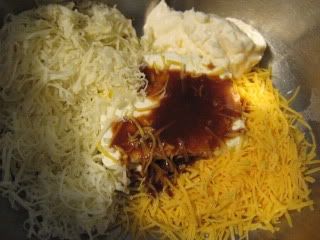 Pipe the cheese mixture into the cooled jalapenos.
Honestly, this was a little thick to come through a baggie. I would have been better off with an actual piping bag. But going slowly, the baggie worked out ok.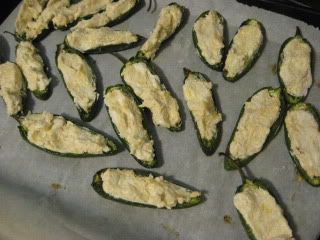 Whisk up the egg with a little water.
And brush it onto the filled jalapenos. I did about 5 or 6 at a time. You want the egg wash to be nice and wet to hold the crumbs.
Season the crushed cornflakes with Arizona Dreaming.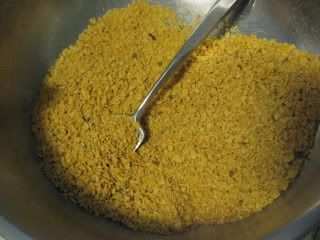 Sprinkle your seasoned cornflake crumbs on top of the egg-brushed poppers. Again working in batches of 5 or 6 peppers at a time.
At this point, I put my tray of poppers into the fridge. Because I had an hour or so before the game. You could even put them in the freezer if you were working ahead for a future party.
Time to bake them. Preheat the oven to 325F. Lightly spray each pepper with olive oil.
I have both of these oil misters. I got them at
Sur La Table
I LOVE them!!
The white one on the left has a little filter on the tube, so you can put herbs or spices in your oil and they don't clog up the sprayer. The one on the left comes in 4 fun colors and is a little cheaper. Both work great and I use them ALL the time!
Ok... end review of oil misters! Back to the poppers!
After you mist the poppers with oil (for fun you could use garlic oil or bacon oil or chile oil or cilantro oil... you get the idea!) pop them into the pre-heated oven for about 30 minutes.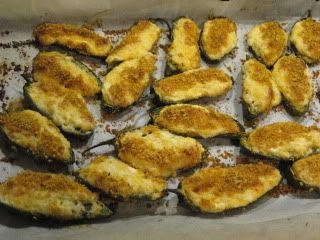 The topping is nice & crunchy!
These really came out awesome and will be definitely show up on the Football Menu at my house often!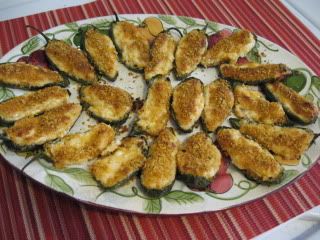 The cheese didn't leak out. They were wicked easy to make. They can be made ahead of time. The topping is crunchy, the filling is creamy and a little spicy. I served them with ranch dip. But a berry dip might be nice too!
Definitely a winner!
What's on your football menu this week?