Guess what today is?
It's National Root Beer Float Day!
Root beer floats are one of Bobby's favorite drinks, so when I told him he'd have to drink one so I could get pictures for a post, he was pretty willing.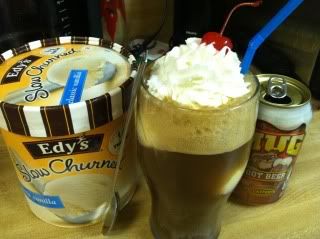 Root Beer Float
Cold Root Beer
Vanilla Ice Cream
Whipped Cream
Cherry
Put a big scoop or two of vanilla ice cream in a tall glass.
Slowly pour the root beer over ice cream. There will be a lot of foam, so really, pour slowly. ** I usually have Bob suck up the root beer foam with a straw as I pour. Well, only on
his
float!
Top with whipped cream and a cherry.
That's it!!
Enjoy one today!!