Usually I make
Chicken Adobe
, but I was wanting something a little different and since I knew I had a pork loin roast in the freezer, I decided to try a Pork Adobo.
Wow! Was this amazing!!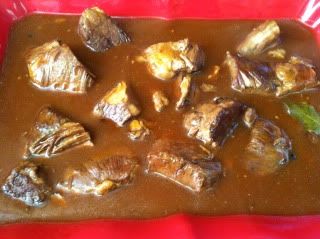 Pork Adobo w/Gravy
1 1/2 C white vinegar
1 C soy sauce
5 cloves of garlic, minced
1 TBLS peppercorns
3 bay leaves
1 C water
3 - 4 lbs pork loin roast, cut into large chunks
Gravy
1/4 C flour
3/4 C water
In a hot pot, sear pork chunks on all sides.
Then add remaining ingredients and simmer at least one hour until meat is tender. You can totally just put it on the back of the stove on low for a few hours and it only gets better.
Remove meat and set aside, strain peppercorns out of broth.
In a shaker, combine 1/4 C flour with 3/4 C water and shake to create a slurry. Whisk slurry into soy sauce/vinegar/pork broth, whisk over medium heat until gravy thickens. Add meat back to gravy.
Serve with rice.
~~~~~~~~~~~~~~~~~~~~~~~~~~
First, put those beautiful chunks of pork into a hot pan and sear on all sides.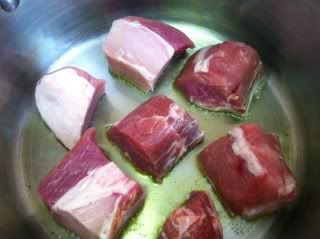 There is more beautiful searing than this... but I guess I didn't get a pic...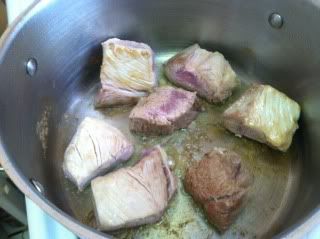 Add the remaining vinegar, soy sauce, garlic, peppercorns, bay leaves and 1 cup of water.
Simmer at least one hour
Remove the meat and set aside.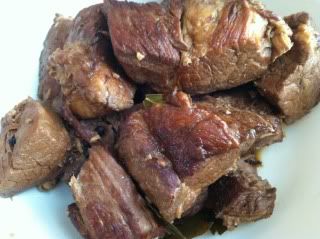 Strain the broth to remove peppercorns.
Put 1/4C flour & 3/4C water into a shaker and shake into a slurry.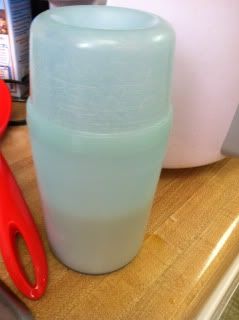 Add to strained broth and whisk until gravy thickens.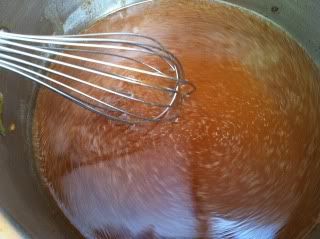 Add meat back to gravy.
This can stay on the stove on low heat until you're ready to serve it.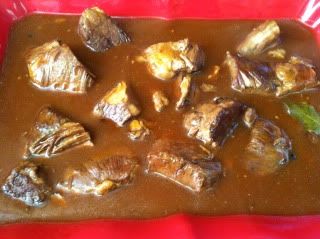 I have to say this was far and away the BEST adobo I've ever made! I don't know if I'll ever make Chicken Adobo again.
Boneless skinless chicken (what my family perfers) doesn't hold up to braising anywhere near as well as pork.
The tender flavorful melt-in-your-mouth pork was so delicious!
And the gravy!!! WOW!!! Silky, sour, so adobo-y... and thicker than the usual broth so it really sticks to the rice.
Our friend Mike said, "Sarap!"
I'll definitely be making this again!!